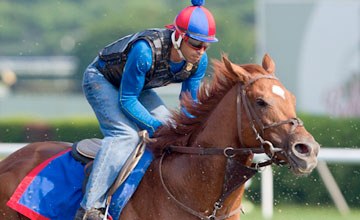 Lot 1167 at the Tattersalls December Sale is a Black Sam Bellamy colt closely related to Kentucky Derby winner Animal Kingdom (above)
PICTURE:
Matt Wooley/EquiSport photos
Hopes high for Bellamy colt born on eventful day

FEW foals who come under the hammer at the Tattersalls December Foal Sale can have been born in more auspicious circumstances than lot 1167 on Saturday.
Erika Bass, who owns the Black Sam Bellamy colt and his dam Darwinia, received the phone call that announced his foaling as she watched his sister Daveronwin the Grade 3 Beaugay Stakes at Belmont. Then hours later a close relation landed one of the biggest races in the world.
"It was May 7," Bass says. "Robin Sharp of Houghton Bloodstock was speaking to me on the telephone while I was watching Daveron's race on my computer. He said: 'Darwinia just produced a colt foal for you' and I answered: 'his sister has just won a Graded race in America'. How amazing was that?
"However, the exciting evening did not end there. Just hours later, Darwinia's sister Dalicia's first foal, Animal Kingdom, won the Kentucky Derby.
"It was an amazing evening for the two sisters Darwinia and Dalicia, and for all people connected with the family. For both their first offspring to win Graded races and a brother to Daveron to be born. What a night!"
Bass bought Darwinia's dam Dynamis, a daughter of Dancing Brave and German champion juvenile filly Diasprina, as a three-year-old from the consignment of Sheikh Ahmed Al Maktoum at Tattersalls in 1994.
Dynamis was bred by Gestüt Röttgen, and her relatives - including German Classic performers Diacada and Dickens - have become known as the famous Röttgen 'D' family. But as Bass points out, she is responsible for most of the family's success in recent years, not the famous German stud.
Bass sent Dynamis to the late, leading German sire Acatenango twice and the mare produced the two fillies Dalicia and Darwinia. In a dispersal at Baden-Baden in 2005 she sold much of her stock, including Dalicia to Animal Kingdom's owner-breeders Team Valor.
Luckily Bass retained Darwinia and brought her to England, where the mare is looked after by Houghton Bloodstock at Fox Farm in Suffolk. She also has Darcique, Darwinia's unraced daughter by Cacique, who she will breed from next year.
The Black Sam Bellamy colt foal has further benefited from Daveron going on to win the Grade 2 Ballston Spa Stakes in August and finishing third in the Grade 1 First Lady Stakes last month, and Don Libre, his two-year-old half-brother by Librettist, finishing third and second on his first two starts this month.
Bass says: "I was hoping that Don Libre might have won in time for the sale but buyers will realise that as he is from a German family he will be much better at three,so the placings were very respectable."