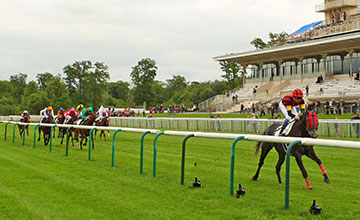 A Shin Hikari: recorded largest French Group 1 winning distance since 1980
PICTURE:
ScoopDyga
'It is a miracle and we can't wait for Ascot'
KATSUHIKO HIRAI and his family have had a week to remember by anyone's standards. If winning the Prix d'Ispahan by ten lengths with homebred A Shin Hikari wasn't enough, just a day later, his travelling companion A Shin Erwin triumphed in the Listed Prix de Montretout.
"It's a miracle," the Japanese owner-breeder said after A Shin Erwin's victory at Maisons-Laffitte by a nose, following on from A Shin Hikari's outstanding performance at Chantilly, where he recorded the biggest winning distance by any horse in a Group 1 in France since 1980.
"A Shin Hikari is definitely the best horse we have ever been associated with. When you think we have owned and bred for 40 years and produced over 1,000 horses, that tells you just how difficult it is," Hirai says.
Together with his brother Hirotsugu, the brothers operate under Eishindo Co Ltd, owning the 70-hectare Eishin Farm in Hokkaido with 120 mares, as well as a pre-training establishment near Osaka that covers a further 20 hectares.
"My father Toyomitsu started the farm as he was passionate about racing and this was his hobby," Hirai explains. "Personally I had never been particularly involved as I was working in China running our toy factory.
"When we closed it around six or seven years ago, I found I had nothing to do, so he suggested that maybe I would enjoy having a racehorse in Hong Kong."
Little did Hirai know that this was going to be the start of a passion that would lead him to breed one of the world's top performers. It was under difficult circumstances, however, that he tasted success almost straight away in his new endeavour.
"My father was diagnosed with a terminal disease and given five years to live, so I wanted to do something that would really give him pleasure," Hirai says. "At the time, a Japanese trainer was going to several countries to look at horses, and I asked him if I could join him with a view to buying some."
Trips to Australia, New Zealand, Argentina, Ireland, Britain and Kentucky followed for Hirai, during which time he saw around 1,000 horses in three weeks. "It was a steep learning curve as I didn't have any experience, but I picked it up quickly," he says.
"I bought two horses by Giant's Causeway as a present for my father on that trip, both from Ashford Stud. One of those turned out to be my first Grade 1 winner, Eishin Apollon, who won the Mile Championship in 2011."
With the young sire's oldest crop now two-year-olds, Hirai is keen to see his progeny on the racetrack. "I think he will have his first runner very soon, so I am very nervous," he says. "This is very important for our farm, as if he produces good horses, this would also be very good for us."
Numbers have continued to grow since Hirai's initial purchases, and he now dedicates his time to the family stud with his brother.
Today, they have more than 110 horses in training and are in the top ten Japanese owners. Their horses are easily distinguishable, either carrying the prefix 'Eishin' for the name of their company, or more latterly 'A Shin'.
"We found that this name was difficult for English-speaking people to pronounce properly , so my brother had the idea that we should change it so it was easier," explains Hirai, who also started selling at the JRHA Select Sale last year for the first time.
Eishin means advancement in Japanese, while "Hikari" translates as light, a name that was thoughtfully reserved for the five-year-old grey son of Deep Impact, whom Hirai has always held a place in his heart for since the beginning.
A Shin Hikari's dam Catalina was bought by Hirai's father for $135,000 as a two-year-old at Keeenland's April Sale in 1996. Trained by Steven Miyadi, she won three races from 15 starts. Kept in the United States, her progeny were then sent to Japan before she was exported permanently there in 2007.
From these coverings she went on to produce stakes performers A Shin Cool D (Distorted Humor) as well as the Fusaichi Pegasus colt A Shin P C. Despite this success however, Hirai says: "We used to keep around ten mares in America, but we didn't have very good results so we brought them back.
"The decision to send Catalina to Deep Impact was made partly as Storm Cat mares were doing very well in Japan and she had become one of the best on our stud. We thought she deserved to go to him, and we weren't disappointed!
"From the start I always liked A Shin Hikari as he was well balanced and had a good walk. When he came to the pre-training farm as a two year old, I told my staff they must take special care of him. He should have gone into training in August that year but I wanted to wait a month, and then he picked up a small injury.
"Finally he didn't go until March as a three-year-old, which was rather late, so there was a lot of pressure that he must run well from the start. We didn't have to worry though, as he just kept winning!"
Now retired, 22-year-old Catalina's last progeny is three-year-old A Shin Twinkle, a sister to A Shin Hikari who has won one of her three starts to date.
"I like her a lot, although she is slightly temperamental like her dam. Her brother is too, but he has relaxed a lot recently and was very calm at Chantilly," says Hirai.
In contrast to A Shin Hikari, A Shin Erwin was raised in Ireland at Eimear Mulhern's Meadow Court Stud. Out of Listed winner and Preis der Diana runner-up La Ina from the family of Longa, the son of Shamardal was Grade 3-placed in Japan before his Listed victory.
"He's a good performer that we thought would really suit coming to France as he is out of a Monsun mare," Hirai explains. "Most of the time the ground is just too firm for him at home."
La Ina was bought in foal to Montjeu for 110,000gns at Tattersalls in December 2010 by Brian Grassick Bloodstock on behalf of Novellist's breeder Dr Christoph Berglar.
"We like to buy European blood as it has a lot of stamina and power, which works very well with Japanese stallions, as they have a lot of speed," says Hirai.
"Sometimes we leave the mares we buy to be covered in Europe, it just depends. We bought three at Goffs last year, but they have all been exported."
Now a five-year-old, this will be A Shin Hikari's last season to race before retiring to the Yoshida family's Shadai Stallion Station, which also stands Hirai's Japanese Derby winner Eishin Flash.
"We have a very good relationship with them and probably send 30 or 40 mares to their stallions every year," he says. "Of course we would like to see him race on, but we now also have to be commercial. He will have the best opportunities there."
Before that however, A Shin Hikari is sure to draw plenty of interest in the Prince of Wales's Stakes at Royal Ascot next month, while A Shin Erwin takes his chance in the Queen Anne.
"A Shin Hikari's growing up all the time and getting stronger even from month to month. I can't wait for Ascot," Hirai says.
We've been warned!