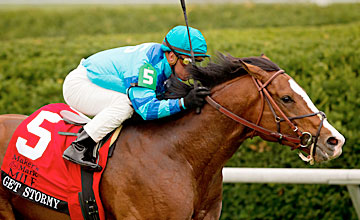 Get Stormy: the son of Stormy Atlantic won two Grade 1 races this year
PICTURE:
Matt Wooley/EquiSport Photos
Hill 'n' Dale raise Stormy Atlantic fee to $40,000

JOHN G. SIkura's Hill 'n' Dale Farms have increased the 2012 fees for Stormy Atlantic and Indygo Shiner.
Stormy Atlantic, a 17-year-old son of Storm Cat, was represented this year by Grade 1 Maker's Mark Mile and Woodford Reserve Turf Classic winner Get Stormyand Grade 2 Connaught Cup winner Stormy Lord.
His fee has been raised from $30,000 to $40,000.
Indygo Shiner, a 13-year-old son of A.P. Indy, was in the spotlight this yearwith his Grade 1 Santa Margarita Invitational Stakes-winning daughter Miss Match.
His fee has been increased from $7,500 to $10,000.
All other Hill 'n' Dale sires have either had their fees cut or left unchanged.
The farm offers a 10 per cent discount to breeders who pay their fees on or before November 15, 2012 (the deal does not apply to Harlington).
Hill 'n' Dale 2012 stud fees
Concord Point $7,500 (unchanged)
El Corredor $10,000 (down from $12,500)
Harlington $7,500 (unchanged)
Indygo Shiner $10,000 (up from $7,500)
Midnight Lute $15,000 (down from $17,500)
Misremembered $7,500 (new)
Roman Ruler $15,000 (unchanged)
Stormy Atlantic $40,000 (up from $30,000)
Zensational $20,000 (down from $22,500)