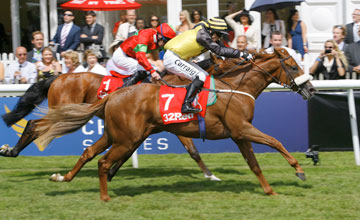 Red Duke: Superlative Stakes winner topped last year's DBS Breeze-up Sale at £140,000
PICTURE:
Mark Cranham (racingpost.com/photos)
Healthy turn-out
for Doncaster breeze
THERE was optimism on Sunday afternoon at Doncaster that the DBS Breeze-up Sale, which starts on Monday at 10.30am, would maintain the momentum set during the past two renewals.
The sale, which has yielded top sprinter Dream Ahead and last season's Group 2-winning juvenile Red Duke out of the past two editions, has returneda near 20 per cent rise in average since 2009 to £29,206.
Approximately 165 two-year-olds were put through their paces yesterday over the final three furlongs of Doncaster's hurdles track in front of a crowd that contained a healthy number of agents, including Dick O'Gorman and Anthony Stroud, as well as several trainers.
Although there were some grumbles from agents about being required to attend a breeze that was being held for the first time in recent memory on a Sunday to prevent a clash with Punchestown, some vendors were positive about the move.
"We've been busy, the traffic has been good," said Con Marnane of Bansha House Stables. "Moving the breeze to a Sunday seems to have tempted some foreign buyers up here."
There were few grumbles, however, regarding the ground even though it became hard work for the later breezers as the relentless rain took hold.
"Doncaster need to be complemented on the condition of the track," said Brendan Holland of Grove Stud. "Even with the rain, it was a big improvement from last year and it was unfortunate that the rain came. Without it, the ground would have been perfect."