Hascombe's Gedge over the moon with award
ROY Gedge's decision to delay his retirement until next year at least received considerable recognition on Monday when the Hascombe and Valiant head groom won the Stud Staff category at the Godolphin Stud and Stable Staff Awards.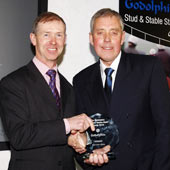 John Reid (left) presents Roy Gedge with his award
PICTURE:
Dan Abraham
In what was a double-whammy for the breeding industry, James Gray of Whitsbury Manor Farm collected the David Nicholson Newcomer Award at a London gathering that was run by the British Horseracing Authority in association with the Racing Post.
Despite starting at Hascombe in 1966, working for the last 25 years as stud groom, Gedge said he was "100 per cent surprised" to receive the award. "When I heard my name called out I had no idea at all," he said. "I was very, very nervous, I had been alright until that point but when I found myself up on the stage it was nerve wracking."
Gedge landed the award ahead of Kirtlington Stud's Hazel Woods and David Cartledge of the Royal Studs after an interview by BHA director Morag Gray and former National Stud manager MIles Littlewort on Sunday. "It was basically just a question of trying to find out whatkind of person you are," he said. "They asked me about my time at the stud and the various jobs I had done."
Admitting to being "over the moon" about the prize, Gedge said: "I think it is absolutely brilliant for the breeding industry to have something like this. Compared to racing, it lags a little bit behind. The people involved aren't as well known as the racing people, who tend to appear on the telly a lot. So it is a very, very good thing."
Asked what his plans were for the £5,000 prize were, Gedge said: "I'll just wait until my wife (Wendy) tells me what I'm going do with it!"