Harry Herbert accepts BBM chairman role
HARRY HERBERT has been appointed as the non-executive chairman of British Bloodstock Marketing on a two-year term, replacing Gavin Pritchard-Gordon who is retiring on October 31 after nearly two and a half years with the organisation.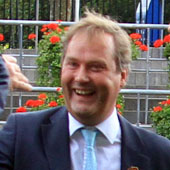 Herry Herbert: will represent BBM
PICTURE:
Mark Cranham
Herbert will join the BBM team, based in Newmarket, on November 1.
He will continue to be based near Newbury, allowing him to remain in his current role of managing director of Highclere Thoroughbred Racing while carrying out his new roleas ambassador with BBM, which will involve securing increased funding for the organisation and representing BBM in key international markets.
Herbert said: "I am honoured to accept the position of non-executive chairman of British Bloodstock Marketing. BBM has achieved much in raising the profile of British bloodstock in a short space of time, and I am very much looking forward to working with the BBM team and committee in continuing to develop links with overseas markets while promoting the success of British-breds at home and abroad."
Prior to launching the successful Highclere racing syndicates, Herbert represented the Matchmaker Group, a bloodstock sales, finance and promotion company, in Europe before establishing his own bloodstock advisory and promotional company, HMH Management Ltd.