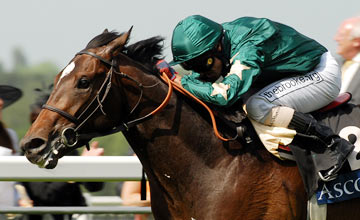 Araafa: represented at the Tattersalls Guineas Breeze-Up
PICTURE:
EDWARD WHITAKER
Guineas sale has 90 per cent Bonus eligibles
MORE than 90 per cent of the 146 lots catalogued for this year's Tattersalls Guineas Breeze-Up on April 29 and 30 are eligible for the Racing Post Breeze-Up Bonus.
They include representatives of first crop sires Araafa, Aussie Rules, Balmont, Borrego, Henny Hughes, Holy Roman Emperor, Hurricane Run, Librettist, and Shirocco.
Over half the entries are also eligible for the Racing Post Yearling Bonus.
Last year's sale saw 138 of the 196 lots sell for a turnover of 2,819,200 gns, an average price of 38,097 gns and a 25,000 gns median.
The full catalogue can be viewed online at tattersalls.com