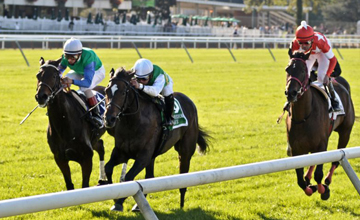 Ave: Grade 1 winner is Japan-bound after selling for $1.4 million
PICTURE:
Equisport
Grade 1 winners lead to huge rise in aggregate
THE presence of three Grade 1 winners on the opening day of Keeneland's Januaryhorses of all ages sale saw a 62 per cent increase in aggregate and a 54 per cent rise in average price.
In all, 187 horses sold for a total of $10,687,600, for an average of $57,153 and a median of $20,000. In 2010, 178 horses were sold for a total of $6,592,600. The average was $37,037 and the median was $20,000.
Between them, Ave, Wickedly Perfect - both bound for Japan - and Negligee made $2.825 million.
"We knew going in these three mares were very special mares, and the market reacted accordingly to it," said Keeneland's director of sales, Geoffrey Russell. "We're very pleased with that. It's the old adage, quality sells."
However, Russell was the first to admit that this year's opening session was a bit front-loaded when compared to 2010.

"You have to understand that you have to look at all of Book 1," she said. "You can't just look at session one vs session two. You have to add it all together because last year session two had all the high-end priced horses. So we'll see where we are on Tuesday."