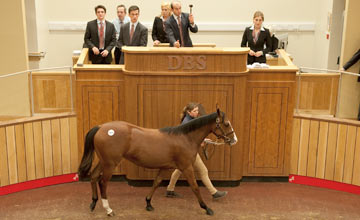 Beeby was delighted with the "exceptional trade" at the two-day DBS sale
PICTURE:
EDWARD WHITAKER
Oasis Dream colt tops strong DBS trade
A £280,000 Oasis Dream colt, the dearest yearling sold at Doncaster's new auction complex, crowned a Premier Sale that saw sustained demand from its beginning on Wednesday morning to completion at 7pm last night.
Overall, the average and median were both up by five per cent, the clearance rate was 75% and the aggregate rose by nine per cent.
Managing director Henry Beeby said that he was "absolutely delighted" with the two days of "exceptional trade".
Eddie Fitzpatrick of Coolmore signed for the sale-topper, the first foal of Warwickshire Oaks winner Ronaldsay, but only after a string of other bidders were disappointed.

Richard Brown of Blandford Bloodstock, who had earlier been buying for the Abu Dhabi royal family, was underbidder while Sheikh Mohammed's advisor John Ferguson and David Redvers, acting for Qatar-based Sheikh Fahad Al Thani, both made a bold play for the February-born youngster, who now heads to County Tipperary.
"Demi (O'Byrne), Paul (Shanahan) and M V (Magnier) were over on Wednesday and they felt he was the best colt in the sale. He was lovely and you'd hope he might be quite an early type. He'll come back to Coolmore now," said Fitzpatrick.
The colt's price has only been bettered only once before at this sale, bythe Invincible Spirit filly Tatbeeq, who made 275,000gns (£288,750) in 2006.
Harbour Watch's sire Acclamation could do little wrong over the two days, with his 10 sold averaging £66,300, a figure helped early in the day by a £115,000 colt sold from Rathbarry Stud for whom John Warren outbid Peter Doyle.
Read more in today's Racing Post...