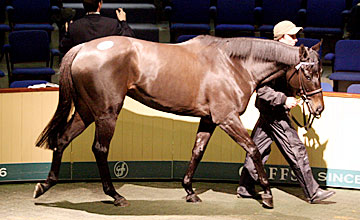 Banimpire: her €2.3 million sale highlighted a good year for Goffs
PICTURE:
Peter Mooney
Goffs posts best final figures since 2008
A HEARTENING round of sales throughout 2011, which came to a close on Wednesday, saw Goffs post its best set of final figures for three years after making gains in all key areas.
The turnover for the year grew by 20 percent to just under €55m as against the near €46m taken in 2010. The average for the year also made good gains as it went from €23,414 to €30,612. Chief Executive Henry Beeby was more than satisfied with 2011 at Kildare Paddocks and singled out the recent November Sale, which played host to the top three priced foals in Europe this year, as one of the main highlights.
"The November Sale proved some massive points for Goffs as not only did we smash both the 25 year old foal and mare records with the €850,000 Sea The Stars foal and the €2.3m for Banimpire but aside from the big headlines we were hugely encouraged by a rejuvenated trade throughout for quality Irish foals and breeding stock," he said.
On the National Hunt side the newly introduced Punchestown Festival Sale also came in for mention after producing a €200,000 top price and 'a greater percentage of horses making €100,000 plus than any other sale of its kind'.
In conclusion Beeby stated: "Goffs are indebted to every client throughout 2011. As I said at our November Sale the modern day Goffs was established to sell the best Irish bloodlines to a global audience. We would submit that we have delivered in some style this year when we have been given the chance".
"The industry may rest assured that we will work tirelessly to continue to gain the confidence of more and more Irish breeders so that Goffs becomes the automatic first choice for the very best. That is what we are here for and we won't let them down - just as Jim Bolger."