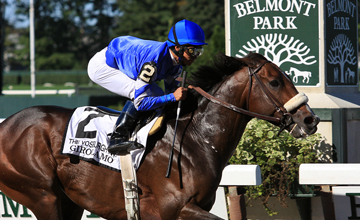 Girolamo wins the Vosburgh Stakes (G1). The son of A.P. Indy is retiring to Sequel Stallions, which is reopening its New York farm
PICTURE:
EDWARD WHITAKER
Girolamo to stand at reopening Sequel Stallions in New York
GIROLAMO, the Grade 1-winner of the Vosburgh Stakes and son of A.P. Indy, is to retire to Sequel Stallions in New York on behalf of Darley. The farm is reopening its New York facility which shut in 2009 when it transferred its stallions to Keane Stud in Amenia due to the then perilious state of the New York state's racing and breeding industries.
The five-year-old Girolamo, who was trainedby Saeed Bin Suroor, is the only son or daughter of A.P. Indy to win a 6f race at the highest level. He posted five wins, including a victory in the 2009 Jerome Handicap (G2), and one third in 11 starts. He earned $443,800 in three seasons.
Girolamo is one of eight winners out of the Grade 3-winning Mr. Prospector mare Get Lucky and is a brother to the graded stakes winners Daydreaming and Accelerator, as well as to Supercharger, the dam of Kentucky Derby (G1) winner Super Saver.
"Girolamo is a horse with tremendous potential on all fronts," said Charlie Boden, Darley America's head of sales to the TDN. "He was a dominant racehorse with speed and class and is a Grade 1 winner from a tremendous Phipps family. Once you get to take a look at him physically, you'll understand why we're thrilled about his future. We are extremely excited that Sequel Stallions will be standing him for us in New York in 2012."
Sequel Stallion is reopening for the 2012 breeding season, with a stallion roster that includes Freud and the young stallion Noonmark, whose first crop are yearlings of this year.
Freud is the sire of 2011 Grade 1 winner and Breeders' Cup Sprint hopeful Giant Ryan, and is currently second on the state's sire list by earnings and first by number of stakes winners with eight.
Becky Thomas, who owns Sequel in partnership with Dennis Narlinger, said that they decided to reopen the farm in association with the allowing of gaming machines at Aqueduct racetrack this month.
The thoroughbred racing and breeding industry expects that the arrival as the first casino within easy reach of New York will pump tens of millions annually into prize-money and the breeding awards programme. Aqueduct purses and the New York breeders' awards already had gone up sharply in anticipation of the casino revenue.
"The timing is finally here," Thomas said to Daily Racing Form. "Everything we thought we were going to get for so many years is finally here. When the recession hit, we were in a situation where New York City OTB had filed for bankruptcy, our awards program had been cut, people couldn't pay their stud fees.
"Financially, it just was killing us trying to run a farm when no one couldpay their stud fees. Now, we fast-forward to where our purse structure is unheard-of and our award programme is huge. I'd planned all along to reopen if we ever got to this point."