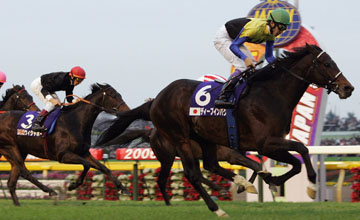 Deep Impact will cover Apapare in her second career as a broodmare
PICTURE:
Getty
Fillies Triple Crown winner retired

THE fillies Triple Crown winner Apapane, trained by Sakae Kunieda, has been retired to stud after sustaining an injury that was enough to end her racing career. She will be covered by Deep Impact.
This autumn, her target was Grade 1 Queen Elizabeth II Commemorative Cup (November 11) but a superficial digital flexor tendonitis was enough to persuade connections to embark on a career at stud.
Her first Grade 1 success came in the 2009 Hanshin Juvenile Fillies. In 2010 she won two Japanese fillies Classics, the Grade 1 Oka Sho (Japanese 1,000 Guineas), the Grade 1 Yushun Himba (Japanese Oaks), and Grade 1 Shuka Sho.
She has been the third fillies triple crown winner following Mejiro l'Amone (1986) and Still In Love (2003). Her last win was 2011 Grade 1 Victoria Mile that she beat Buena Vista.
Trainer Kunieda said: "Her lameness is not heavy but she had succeeded already and has another important mission. I am so sorry but I wanted her to win the remaining QEII. My best memory of her is Victoria Mile because she beat Buena Vista. I want to train her children."
Jockey Masayoshi Ebina added: "It's so sad. She gave me the title of Oka Sho I wanted to win and she teached me various things. I look forward to the day when I ride her children."
A five-year-old daughter of King Kamehameha who marked seven wins from 19 starts is owned by Mr. Makoto Kaneko who also owned 2005 Triple Crown winner Deep Impact.