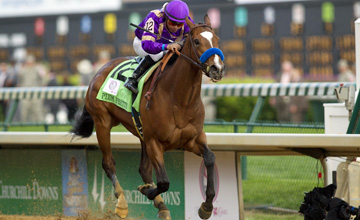 Plum Pretty: bought by Mandy Pope for $4.2 million
PICTURE:
Alex Evers / Equisport Photos
Figures down as Plum Pretty tops at $4.2m
MANDY Pope continued her buying spree during the opening session of the Keeneland November breeding stock sale on Tuesday night, paying $4.2 million for Kentucky Oaks winner Plum Pretty. The night before, she paid $10 million for 2011 North American Horse of the Year Havre de Grace during the one-day Fasig-Tipton November sale.
"For the upper end mares, there is always a market, " said Pope. "It is just a matter of how many people look up and want those quality mares. This year apparently seems to be my year, at least for these two."
Although Plum Pretty fetched a pretty sum, the gross, average and median were all down significantly when compared to day one of last year's sale. A total of 100 horses grossed $27,665,000, leading to an average of $276,650 and a median of $127,500. That equates to a 56.3 per cent drop in gross, a 35.7 per cent drop in average, and a 44.6 per cent drop in median.
However, last year's opening session featured part of the historic dispersal of Edward P. Evans' Spring Hill Farm. In that one day, the 63 lots who sold out of that dispersal grossed $40,684,500 of the entire session's $63,276,500.
"It is a tough sale to compare, if not impossible," said Walt Robertson, Keeneland's vice president of sales. "This year, we were minus Spring Hill and tomorrow we will be minus Chanteclair. I think all and all it was a pretty good horse sale. I think there was quite a bit of depth at the top. I thought Plum Pretty sold well. She is just a beautiful mare and $4.2 million is a lot of money for any horse, any time."
Plum Pretty was consigned by Taylor Made Sales Agency. The 4-year-old Medaglia d'Oro filly raced for John Fort and retired from racing with earnings of more than $1.6 million. She is best known for her victory in the 2011 Kentucky Oaks but also took the grade 1 Apple Blossom Handicap this year.
"We're absolutely thrilled," said Fort. "I don't know Mandy Pope personally; I've never actually met her. But I know she's a caring person and loves horses, and wants to be a major player in the sport. She goes home now with an Oaks winner and a Horse of the Year, and I don't know anyone else who has trophies like that."
Although Pope had the session topper, Nicolas de Watrigant's Mandore International Agency was also an aggressive buyer. On behalf of an undisclosed client, the agency purchased the second-highest priced offering of the day, Harmonious, who sold for $2.8 million.
"We are looking for good looking mares with a bit of a page, by a good sire," said Mandore's Benoit Jeffroy. "It is a strong market; they are making good money. It is hard to buy."
The agency also paid $1.6 million for Shotgun Gulch and $1.25 million for Negligee on behalf of undisclosed clients.
Book 1 will continues on Wednesday, while the sale runs throughto November 16.