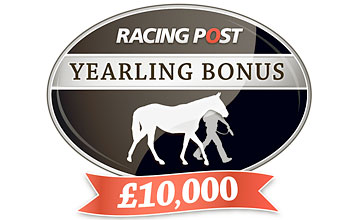 More Book 2 and 3 lots become qualified for the Racing Post yearling bonus
PICTURE:
EDWARD WHITAKER
Extra lots become
bonus qualified ahead
of Books 2 and 3
AHEAD of the first day of the Tattersalls October Sale Book 2, the following lots have also become eligible for the Racing Post Yearling Bonus:
609, 643, 709, 712, 791, 827, 867,
939,

1078, 1084, 1144,

1189,

1286, 1313, 1392, 1447, 1493, 1501, 1523, 1537, 1560, 1562,1569, 1673.
It means that 94 per cent of the yearlings catalogued to sell through Book 2 are eligible for a £10,000-winning bonus should the horse win a nominated race. Through Book 3, 75 per cent of those catalogued are eligible.
This list above isalso available in the sales office at Tattersalls, while those horses qualified for the scheme before the catalogue was printed are marked in the catalogue with a bonus scheme logo.
In a timely reminder to buyers of the financial advantages of purchasing horses qualified for the bonuses, the connections of both winners of the two divisions of the EBF 7f maiden at Salisbury today walked away with an extra £10,000 in their pockets. Both races were nominated for a Racing Post bonus and both winners, Keepax and Medieval Bishop, were suitably qualified.
Keepax went through the sale ring at the DBS St Leger Sale where he did not sell, while Medieval Bishop was bought by Bobby O'Ryan for €5,000 at the Goffs Orby Sale.

Through 2011, over £2.5 million has been paid out in Racing Post Yearling Bonuses.