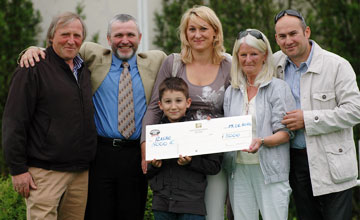 Bobby O'Ryan (left) presents a £10,000 bonus payout at Warsaw in 2010
PICTURE:
Yearling Bonus
European yearling bonus maidens announced
RACES in France, Italy, Scandinavia, Russia and the Czech Republic in which Racing Post Yearling Bonus eligible horses could win the £10,000 payout have been announced.
The races are available to view at http://www.yearlingbonus.com/international-2011.php.
Races are allocated in proportion the number of yearlings bought for each country. Italy will have 16 bonus maidens in 2011, Scandinavia ten, France four while Germany, Poland and Spain three each.
Highlighting the international appeal of British and Irish bloodstock, the Czech Republic, Hungary, Kazakhstan, Morocco, Russia, Singapore and Slovakia have one bonus maiden apiece.