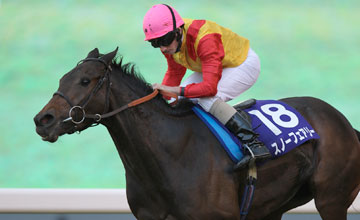 Snow Fairy: the daughter of Intikhab will race again this year
PICTURE:
Masakazu Takahashi
Snow Fairy set for Pimpernel when retired

ISLANMORE Stud new recruit Elusive Pimpernel has had his first two mares scanned in foal - and it has been revealed that five-time Group 1 winner Snow Fairy will likely visit him upon her retirement.
Both Craven Stakes winner Elusive Pimpernel and Snow Fairy, winner of the Epsom and Irish Oaks, were bred by their owner Cristina Patino.
Patino's strong support of another of her stallions who stood at Islanmore Stud, Big Bad Bob, helped himachieve high winners-to-runners records and saw him switched to stand at the Irish National Stud.
Nigel Anderton, who manages Islanmore Stud for Cian and Sue Ann Foley, said: "Unfortunately our test mare died before we had a chance to scan her at 15 days, so we were relieved when we got the results.
"We have had a great response to Elusive Pimpernel. Peter Kavanagh, Peter McCutcheon and Bill Dwan have already had mares covered by him and if the promises turn into visits he should be off to a flyer."

Patino is going to send around ten mares including Group 3 winner Berg Bahn and also her dam Ski For Me, who produced her sixth Big Bad Bob foal in a row at the weekend.
Some of his other intended mates include stakes placed Petite Cherie, Spanish Lady, the dam of stakes winner Spanish Hidalgo and Spanish Duke, and Convent Girl, the dam of stakes winner Bible Black.

Anderton said that Elusive Pimpernel has missed out on his most high profile intended visitor. "My understanding was that Snow Fairy was to come if she had been retired, but Mrs Patino has decided to keep her in training again this year," he said.
"I have been told that there is no question that Snow Fairy's first covering, whenever it happens, will be by Elusive Pimpernel."
Both Elusive Pimpernel and Snow Fairy, a daughter of Intikhab, are descended from Patino's foundation mare Gay Fantasy, so a resultant foal would be bred 3x5 to Gay Fantasy.