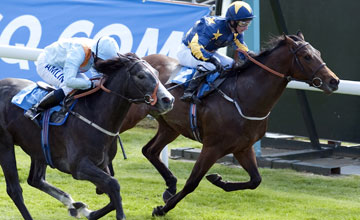 Cocktail Charlie (far side): a flagbearer for the British-bred Danbirds
PICTURE:
Edward Whitaker / racingpostpix.com
Ex-Beechwood Grange sire Danbird on the move
DANBIRD, who shuttled from Australia to Beechwood Grange Stud in Yorkshire from 2006 to 2008, has been switched from Eliza Park Stud in New South Wales, Australia, to Glenrae Stud in South Australia.
The possibility of Danbird returning to cover in Europe has also been mooted. His first two British-bred crops have yielded four winners, including last month's Queen Mary Stakes fourth Serena's Pride and the Tim Easterby-trained useful juvenile Cocktail Charlie.
Danbird is a brother to top-class Australian performerCatbird, a leading first-season sire in Australia who died from laminitis aged 10 in 2007. The brothers are by Danehill.
John Young, who runs Glenrae Stud with his brother Colin, said: "Danbird's own stock are winning all around the globe. As a matter of fact, in line with his success in Europe, there is some talk that he will again shuttle to England.
"All-up, Danbird has winners in six countries and it's important to remember that his oldest progeny are only three-year-olds.
"What's more, he served his largest book of mares in2008 (126 with 95 per cent fertility), so Danbird's got a terrific crop of yearlings coming through the system."
Danbird will stand the 2010 season at A$2,750 (£1,525, €1,842).