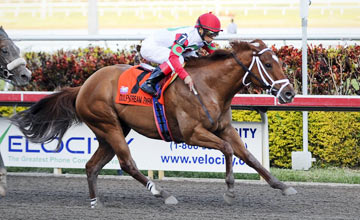 D'Funnybone: could be heading to the Kentucky Derby after a smooth win in the Grade 2 Hutcheson Stakes
PICTURE:
Zbigniew/EquiSport Photos
D'Funnybone: further boost to sire's status
D'FUNNYBONE 3 c D'Wildcat - Elbow by Woodman
FOREST Wildcat's death in 2008 was a loss to Kentucky, not least because he could be relied upon to deliver a consistent flow of above average and fast runners. But whether anyone could have foreseen that as little as 18 months later the son of Storm Cat, just a Grade 3 winner himself, would be represented by three highly promising sons at stud is another matter.
Granted, two of them,D'Wildcat and Wildcat Heir, are ensconced in US regional markets while another, Prix de l'Abbaye winner Var, is in South Africa. However, over the course of the past year, each has done enough to warrant attention outside their own circles.
Avontuur Stud's Var was South Africa's runaway leading first crop sire two seasons ago with 15 individual winners including the Group 1 Gold Medallion Stakes Villandry while Wildcat Heir earned his share of column inches in the US after siring a record 39 individual two-year-old winners in his first crop.
Like his sire, Wildcat Heir was fast yet progressive, running placed in the Grade 2 Sanford Stakes at two and taking the Grade 1 Frank J. De Francis Memorial Dash over 6f at four. And despite jumping out of the blocks early at stud, the indications are that some of his progeny could follow suit as his daughters Richiegirlgonewild and Dances With Ashley have already made a successful transition to stakes company this season.
Forest Wildcat's other Frank J. De Francis Memorial Dash winner, D'Wildcat, was initially slower to make an impact than his paternal half-brothers, although he has had to overcome smaller crops. In addition, two of those crops were conceived at Windfields Farm in Canada, which has restricted his representation in the US.
If Saturday's Grade 2 Hutcheson Stakes winner D'Funnybone remains on the Kentucky Derby trail for much longer, D'Wildcat's prominence within the US atleast can only increase.
D'Funnybone is from D'Wildcat's third crop and his first bred in Florida, which may explain why it is also by some way his largest at 76.
Originally owned by breeder Harold Plumley, D'Funnybone was quick to indicate his potential, dominating maidens over 4.5f at Calder first time out before going under by a nose in the Frank Gomez Memorial Stakes when reportedly under a cloud.
Those performances were all that Paul Pompa,who raced Big Brown with IEAH Stables, needed to acquire the colt and turn him over to Richard Dutrow, who sent him out to win the Grade 2 Saratoga Special by ten-and-a-half lengths and the 7f Grade 2 Futurity Stakes by a four-and-three-quarter lengths. Dutrow and Pompa must have thought they had a candidate for champion two-year-old honours on their hands but those hopes vanished next time out when the colt finished last to Vale Of York in the Breeders' Cup Juvenile.
A comfortable length victory over A Little Warm in Saturday's Hutcheson Stakes has set D'Funnybone back on track, and Dutrow is confident that the Breeders' Cup debacle was attributable to the colt failing to handle Santa Anita's Pro-Ride surface rather than any issues with the race distance of 1m.
The Florida Derby, where he may clash with Saturday's impressive Fountain Of Youth Stakes scorer Eskendereya, will tell us more over whether D'Funnybone deserves his place in the line-up. But should he make it, there has to be some doubt over his ability to get the Kentucky Derby trip of 1m2f as D'Wildcat, like his sire before him, owned plenty of speed.
A $600,000 two-year-old purchase in 2000, D'Wildcat came close to breaking the 6f track record at Santa Anita when winning his maiden on his three-year-old debut. Just two starts later, he was on target to tackle Grade 1 company after crushing the competition in the Grade 3 Swale Stakes by ten-and-a-half lengths.
A hairline fracture to his shoulder put paid to those aspirations and when he returned the following year, he didn't get his head in front until his tenth outing. Even so, he enjoyed some luck along the way when picking up two stakes, including a Grade 2, in the stewards room.
However, he came good at the right time on his final start of that year when charging through the slop past collapsing pacesetters to win the Frank J. De Francis Memorial Dash at Laurel Park. Windfields Farm promptly purchased a half-share but the horse never came close to repeating his Laurel Park form and after four quiet runs at Grade 2 level, was retired.
D'Wildcat's first crop contained just 38 foals but when four of them went on to average $55,000 at auction, his popularity duly increased. By that time, he had been transferred to Vinery in Florida, where he will stand this season at an increased $10,000 - a rare rise in this recession battered market.
Lack of patronage did not stop D'Wildcat from making his presence felt when his first crop turned two in 2007. Among those 38 foals were six stakes runners including the first three home in the Victorian Queen Stakes and the Grade 1-placed The Golden Noodle. Five stakes runners have since followed in his second crop of 30 while D'Funnybone is one of three black-type earners from his third.
Restricted stakes competition in Canada has no doubt played its part in promoting D'Wildcat effectively, but he should continue to gain wider prominence now he is starting to receive larger books of better mares; in 2009 he covered nearly 100 mares at $6,500.
That said, if D'Funnybone does stays 1m2f, it will be down to the stamina influences in his female family, which includes Roberto over his second dam and Herbager further back.
As a descendant of the 1955 Ashland Stakes runner-up Courtesy via Continue, D'Funnybone hails from a family steeped in Claiborne Farm history. Continue, a daughter of Double Jay, produced 11 winners for the Hancock family including Widener Handicap winner Yamanin and Grade 3 winner Tuerta, later the dam of the ill-fated Kentucky Derby winner in Swale.
Another champion, Kentucky Derby runner-up Forty Niner, also features as does the 1985 2,000 Guineas winner Shadeed and Visor, the dam of Varenar, Visindar and Visionary for the late Jean-Luc Lagardere and latterly Aga Khan.
D'Funnybone's dam, Elbow, has not enjoyed much luck at stud, falling barren in three out of six seasons. But with two stakes winners from three runners, she is making a good job of lifting a branch of the family which has been quiet since her granddam, Chain Bracelet, took the 1981 Top Flight Handicap.
Bred by Harold J. Plumley in Florida
---
SIRE: D'WILDCAT
Bred by New Farm in Kentucky. $600,000 OBS Selected Sale of Two-Year-Olds in Training Sale.
Won 5 (6f-1m) of 18 races at 2-5 years, viz. 0 out of 1 at 2 years, 2 (inc. Swale S. - G3) out of 3 at 3 years, 3 (inc. Frank J. De Francis Memorial Dash S. - G1, Churchill Downs H'cap - G2 (on disqualification) and Live Dream H'cap - Listed (on disqualification)) out of 10 at 4 years and 0 out of 4 at 5 years. Also 2nd Triple Bend Breeders' Cup H'cap - G2 and 3rd San Vicente S. - G3. Earned $570,444.
Smallish, compact, strong horse, good-looking. High-class dirt runner, looked progressive up until 5yo year, when form tailed off. Always ran on Lasix and more often than not blinkered although not when successful at G1 level. Effective on a fast and sloppy dirt surface. Tried unsuccessfully on turf.
Quite well-bred. By a high-class dirt sprinter and a later high-class sire, especially of sprinters. Half-brother to 4 winners in US and to unraced dam of stakes-placed Tale Of A Monster. Out of a stakes-placed winner of $117,548. Further family of Kentucky Derby winner Charismatic and G1-placed Sail To Rome.
Stands at Vinery in Florida at a fee of $10,000. Sire of four crops of racing age inc. notable winners D'Funnybone (G2), The Golden Noodle (G1-placed), Authenicat, D'Wildride etc
DAM: ELBOW
Bred by W. Lazy T Ltd in Kentucky. $85,000 RNA Keeneland September Yearling.
Won 2 (6f-1m1 ½ f) at 3 years viz. maiden and allowance races. Placed three times. Unraced at 2 years. Won on dirt but also effective on turf. Earned $45,960.
Well-bred. By a champion two-year-old and later leading sire and broodmare sire. Half-sister to 9 winners inc. G3-placed Elkhart (g Gone West). Granddaughter of G1 winner Chain Bracelet. From successful Claiborne family of Forty Niner, Shadeed, Swale and Yamanin, and of Varenar, Visindar and Zoftig.
$52,000 Keeneland November 4yo.
To stud at 4 years and dam of: Dr Kathy (01f Polish Numbers; G2-placed); Teflon Lady (02 f Sweetsouthernsaint; unraced); El Cartero (04 g Sweetsouthernsaint; winner); D'Funnybone (07 c D'Wildcat; G2 winner). Barren to Southern Halo in 2003, Tiger Ridge in 2005 and With Distinction in 2008. Her 2006 foal by Exchange Rate died. She also has a yearling colt by Pomeroy and is in foal to Wildcat Heir.
CONCLUSION:
A legitimate Kentucky Derby contender. Fast sire line may hinder his chances of staying 1m2f but owns a female family stout enough to give him a shot.