Encke thwarts Camelot's historic Triple Crown bid

Report: Doncaster, Saturday
Ladbrokes St Leger Stakes (British Champions Series) (Group 1) 3yo+, colts and fillies, 1m6½f
CAMELOT, bidding to become the first Triple Crown winner since 1970, instead became the first horse since 1931 to try and fail to win the Triple Crown as Encke stole a march on the field and proved too tough for Ballydoyle's favourite to reel in.
For weeks racing circles had talked of little else except the history which was to be created at Doncaster. With victory, Camelot would be a first Triple Crown winner since Nijinsky in 1970. With victory, Aidan O'Brien would become the first ever trainer to win all five British Classics in one season.
The historians' pens quivered with anticipation and Camelot prepared to pass into legend.
What then unfolded at Doncaster was another reminder - as if any more were needed - that there are no scripts and no certainties in racing.
Yet there were no bad omens to cause anyone doubt beforehand. In front of a full house and under bright blue skies Camelot had paraded, attracting the sort of awed appreciation reserved only for a select few in this sport, and he was sent off a 2-5 favourite.
As Camelot was, unusually for an Aidan O'Brien-trained horse, without his pacemaking knights of the round table, it fell to John Gosden's Dartford to make the pace up front. What he set was not the ferocious gallop popular opinion said would be necessary to defeat Camelot, but nevertheless the field gathered speed on the long turn to home.
Camelot's trainer Aidan O'Brien
PICTURE:
Edward Whitaker (racingpost.com/photos)
Thought Worthy, bidding to give John Gosden his third consecutive victory in the race, was the first prominent challenger to lay down his challenge, swiftly pursued by Ursa Major, ridden by Johnny Murtagh.
But the eyes of the more than 30,000 within Doncaster racecourse - and many more watching on screens around the country and the racing world - were not drawn to the front, but to the inside rail about three lengths behind the leaders, where Camelot and Joseph O'Brien made steady progress.
Yet was Camelot travelling as well as he had in the past? Was the economical smoothness of movement which allowed Camelot to pursue, catch and dominate his rivals in the 2,000 Guineas and the Derby as effective as it had been at Newmarket and Epsom? Was he even going to find a gap to come through?
Then Encke, ridden by Mickael Barzalona in the famous blue silks of Godolphin, came surging through to take up the lead heading into the final stage of the race. A far more clear and present danger to Camelot emerged.
Joseph O'Brien, as cool as ever, managed to angle Camelot out the pocket he was caught in and sent him in pursuit of Encke. This was the moment history beckoned. Time for Camelot, as in the Derby, to quicken and leave his rivals in his dust.
The Godolphin runner was not for catching, however. Even as Camelot's stride lengthened Encke seemed to put more ground between them. In the last half furlong Camelot did begin to close, but it was far too little, far too late. Encke was the St Leger winner. The wait for a Triple Crown winner went on.
If the result was a surprise, it was also a reminder that the Triple Crown is attempted rarely not just because to do so is unfashionable, but because it is difficult as well.
O'Brien did not seem downhearted afterwards, but instead contritely offered his decision not to run pacemakers as the reason for Camelot's defeat.
"It was obviously a steadily run race and I should have run a pacemaker or two, but didn't think I'd need to," he said.
"When the gates opened he was where you'd want him to be and we had to take our time and wait for the gaps, which you'd do with Camelot."
However, said O'Brien, when Camelot did get free "the winner, who was in a handier position, had just gone".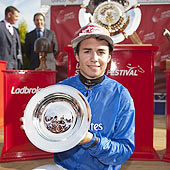 St Leger winner Mickael Barzalona
PICTURE:
Edward Whitaker (racingpost.com/photos)
It is the curse of outsiders who upset favourites that their own achievements go mostly unnoticed. Encke improved almost beyond recognition from his third in the Great Voltigeur, a testament to the skill of his trainer Mahmood Al Zarooni, while his rider Mickael Barzalona was at his thrilling best to win a second British Classic (he won the 2011 Derby on Pour Moi).
Godolphin's racing manager Simon Crisford said: "This might not be the most popular win on Town Moor today but from our point of view it's fantastic. It's our sixth Ladbrokes St Leger.
"We are absolutely delighted with the horse and Mickael Barzalona gave him a superb ride. When he kicked at the two pole he put the race to bed."
"He's a tough horse and kept going. Mickael always liked him and said he had the class," added Al Zarooni.
Too much class for Camelot. The beaten favourite's name enters Triple Crown history, but not beneath that of Nijinsky, the 1970 winner.
Camelot's name will appear instead beneath Cameronian, the 1931 Derby and 2,000 Guineas winner who finished last in the St Leger.
It may be a long, long time before the history of the Triple Crown needs updating again.