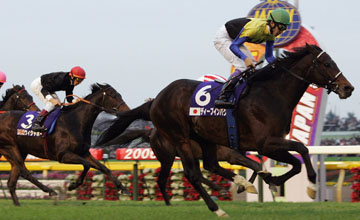 Deep Impact: dominated this year's JHRA yearling and foal auctions
PICTURE:
Getty
Fireworks as Impact relative makes £2 million

BIDDING fireworks lit up the Northern Horse Park sale pavilion for the second consecutive day as the Japan Racing Horse Association select sale concluded on July 12 with dramatic and unexpected gains.
A four month colt by Neo Universe who is a three-quarter brother to Deep Impact sparked a bid of ¥250 million (£1,973,487/€2,245,964) from agent Nobutaka Tada to become the ninth most expensive foal sold in JRHA history.
Overall, gross for the foal session, which featured the sale of 161 youngsters born this year from 220 offered, reached of ¥4,447,200,000 (£35 million/€40 million) , an increase of 33.2% from the 2010 figures. Turnover for the foal session combined with the yearling session on July 11 totalled ¥9,173,200,000 (£73 million/€83 million), an astounding 41.2% higher than last year's results.
"Japan has come back," declared JRHA Vice Chairman and Shadai Farm owner Teruya Yoshida with a broad smile, recalling how the select sale had declined for the past four years prior to this year's revival.
Yoshida and other sale officials could not point to a specific reason why buyers were so enthusiastic while the general national economy remains problematic and challenges remain following the earthquake and tsunami disaster. But he pointed to the 1-2 finish in the $10-million Dubai World Cup by Japanese-bred champions Victoire Pisa and Transcend as a major boost to the domestic industry. Like the foal session-topping colt, Victoire Pisa is by Neo Universe, a son of Sunday Silence.
"Now Japanese-breds are of world-class standards," said Yoshida, who pointed to dividends already yielded and that will continue to be reaped from the investment he and other Japanese breeders have made buying mares in Europe and the Americas. Japan's runners will continue to improve with this ongoing infusion of high-quality bloodlines, he predicted.
Nobutaka Tada said he bought the foal, which was consigned by Katsumi Yoshida's Northern Farm, on behalf of a new partnership. While he did not disclose the owners' names, it was widely discussed that his longtime client Hidetoshi Yamamoto had joined with show business executive Yasushi Kubota in the foal purchase as well as the acquisition of the top yearling, a filly by Deep Impact out of Horse of the Year Air Groove that set a yearling session record at ¥360-million. "The owners really wanted both of them," Tada said, adding that the colt reminded him of Deep Impact, for whom he had unsuccessfully bid on as a foal. "He was small but he moves well."
For the fourth consecutive year, Deep Impact threw a long shadow over the sale in one way or another. In addition to his three-quarter brother that topped all others, Deep Impact sired three of the five other foals that drew bids of at least ¥82-million.