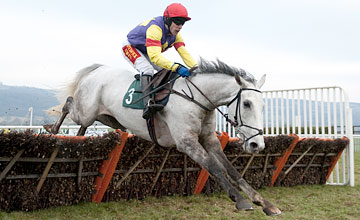 Grands Crus: his brother was a star attraction at the Arqana Summer sale
PICTURE:
EDWARD WHITAKER
Grands Crus brother fetches €150,000
GEVREY CHAMBERTIN (Lot 33), a brother to Grade 2 Cleeve Hurdle winner Grands Crus, will be heading to David Pipe after selling for €150,000 at day one of Arqana's Summer Sale at Saint-Cloud on Tuesday.
Offered by trainer Emmanuel Clayeux, the grey Dom Alco three-year-old was bought by Hubert Barbe on behalf of Roger Stanley and Yvonne Reynolds, also the owners of the Grade 1 World and Liverpool Hurdle runner up.
"He was the one we came for, among others - I hope he is half as good as Grands Crus," Pipe said, before adding, "Gevrey Chambertin breezed really well and isa lovely looking horse. He made a lot of money, but we thought that his price would be in that bracket.
Of his stable star, Pipe continued, "Grands Crus is now out in the field enjoying himself after a long season and the plan isto go novice chasing with him in the autumn."