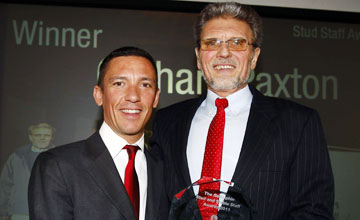 Graham Paxton receives his award from jockey Frankie Dettori
PICTURE:
Dan Abraham
Darley's Graham Paxton wins Stud Staff award
GRAHAM PAXTON, manager of Rutland Stud, the largest Darley-owned operation in the UK, was rewarded for a lifetime's commitment to bloodstock when named the winner of the Stud Staff category at the annual Godolphin Stud and Stable Staff awards in London on Monday.
Stud director Liam O'Rourke nominated Paxton, who landed the £5,000 award ahead of Douglas Ventress, stud groom at Plantation Stud, and Sandra Morton, stud groom at Folly Farm.
"He's a man who has put the breeding of racehorses first throughout his life," said O'Rourke. "Graham would happily spend a night foaling mares, depriving himself of sleep, and yet still be the first man on the job the following morning, always with a smile on his face.
"His amazing foresight and thoughtfulness has saved the stud many a young foal. His multi-talents mean he could be fairly described as a part-time vet, pasture consultant, man-manager, farm-machinery coordinator, stud tutor and mentor. He possesses a love and compassion for the thoroughbred and will relate with pride all the stakes winners at whose birth he was present."
Paxton has been involved in bloodstock since leaving school, initiallywhen working alongside his father, who was stud groom at the Snailwell Stud. He joined Darley in 1985 and is today responsible for the management of Rutland Farm, which involves foaling approximately 40 mares a season.
During that time, his expert tutelage has seen his farm become an equine academy for young students wishing to pursue a career in the industry.
"I love the whole thing, but my favourite part would have to be the foaling," said Paxton, who helped bring the likes of Diktat, Iffraaj and Zomaradah into the world.
"I'm over the moon. It is a huge honour to be nominated, let alone make the final shortlist. Everyone deserves to be here and to win it is the icing on the cake. It has been a fantastic experience, good for Darley and I couldn't have asked to be treated better."