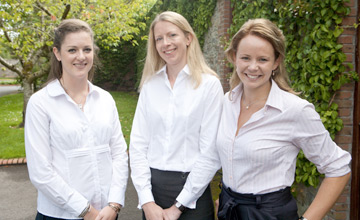 The thre British trainees: Emily Scott, Tessa Hetherington and Diana Hobbs
Darley Flying Start students arrive in Britain
THE Darley Flying Start trainees recently arrived in Newmarket for the British phase of their programme.
This followed the culmination of the course in Ireland, which was marked by the Darley Flying Start conference, a case study on The Irish Field newspaper. The trainees will be based at Dalham Hall Stud, Newmarket, for the remainder of the year before travelling to Kentucky in January.
The trainees are looking forward to visiting a number of training stables and studs including Nunnery Stud, Cheveley Park Stud, Juddmonte, Roger Varian and Jeremy Noseda.
They will receive lectures from leading industry figures such as bloodstock agents, veterinarians, racecourse managers and racing administrators.
Practical experience will take place at the Dalham Hall Stud office, Darley pre-training at Hamilton Hill and at the British Racing School, where trainees will continue their QCF work-based diploma during a week's riding and stable management course.
They will attend the breeding-stock sale at Tattersalls and racing at Newmarket. There is a focus on business during this part of the programme and trainees will complete modules in legal, insurance and media skills.
The UK is represented by Emily Scott, Diana Hobbs and Tessa Hetherington on this year's programme. Tessa Hetherington is 33 and comes from London. Tessa graduated from the University of Cambridge with a BA in Law in 2001, after which she completed a Master of Laws at Harvard Law School, graduating in 2003.
Tessa worked as a self-employed barrister for seven years and also worked as a part-time course tutor at the University of Cambridge. Since leaving the law she has worked for trainer Andrew Balding at Kingsclere and in 2012 she completed the Racing Industry Course at the British Racing School.
Newmarket native Emily Scott is 22 and is a recent graduate of Durham University with a Bachelor of Science in Natural Sciences. Emily has worked for Glebe Stud, Tattersalls and Lucy Wadham Racing.
Diana Hobbs comes from Somerset and completed the Irish National Stud Thoroughbred Breeding Course in 2012. Diana is 23 and has ridden out for her father, Philip Hobbs, from a young age.
She has ridden 18 point-to point-winners in the UK. She has gained work experience at Johnno Spence Sport Consultancy, John Warren Bloodstock and Trickledown Stud. Diana holds a Bachelor of Science in International Equine and Agricultural Business Management from the Royal Agricultural College in Cirencester (2011).
Applications to the 2013-2015 Darley Flying Start programme will be accepted from January 1 until February 15, 2013. For more information visit darleyflyingstart.com.