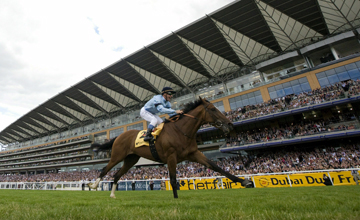 Harbinger: the 12 shareholders in the outstanding winner of the King George will share any proceeds emerging from a stallion deal
PICTURE:
Getty
Lucky dozen to share potential Harbinger sale

THE 12 shareholders in the Highclere Thoroughbred Racing's Admiral Rous syndicate that owns Saturday's outstanding King George winner Harbinger will receive their share of any proceeds arising from a sale of the colt for stud duty, Highclere Thoroughbreds managing director Harry Herbert said onSunday.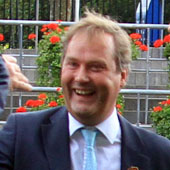 Harry Herbert: "yet to receive any stud interest in Harbinger"
PICTURE:
Mark Cranham
Yet thoughts of a potential stud career for Harbinger were far from Herbert's thoughts as he relished the prospect of their Sir Michael Stoute-trained colt competing in the Arc and further afield, and perhaps even staying in training next year.
"Legally, the syndicate will be wound up at the end ofthe year but we're still unsure over whether he goes to stud or stays in training," said Herbert alluding to the unanimous decision needed by syndicate members to decide Harbinger's future. "He is improving so fast now that we have to take it race by race.
"Obviously it could depend on what offers we get but we're keen to keep the horse running and it's important that we don't make any early commitments."
Since Highclere Thoroughbreds is syndicate-based rather than a club, any sale of Harbinger is unlikely to be accompanied by the anger that was felt in some quarters by the retirement of the Royal Ascot Racing Club's Motivator in late 2005.
Shareholders in the club received less than £11,000 following Motivator's retirement even though the Derby winner had netted £813,000 in earnings and been syndicated for £6 million.
"Harbinger is owned by 12 shareholders who are entitled to receive the proceeds of a sale," said Herbert. "Highclere Thoroughbreds is an ownership, not a club, and we are just the managers."
Herbert also revealed that no stud interest had yet been shown in the son of Dansili even though he had racked up impressive wins in the John Porter, Ormonde and Hardwicke Stakes prior to Saturday's victory. The operation does not retain horses for breeding purposes and Highclere's other high--flying colts, the Group 1-winning sprinters Lake Coniston and Tamarisk, were sold to stand at Coolmore during the late 1990s .
As a result, Harbinger is unlikely to mark a venture into a stallion business for Highclere, as Herbert explained:
"It's very doubtful that we would stand the horse ourselves. You are either in the stallion business or not. John Warren proved with Motivator that you need the support of investors. It is difficult to make any stallion and even harder to startfrom scratch."