Look Here: 2008 Oaks winner has been switched from Danehill Dancer to Sea The Stars
PICTURE:
Mark Cranham
Look Here added to
Sea The Stars' book
SEA THE STARS debut book of mares has been given a late boost with the addition of the 2008 Oaks winner Look Here.
The daughter of Hernando, owned and bred by Julian Richmond-Watson's Lawn Stud, had been booked into Coolmore sire Danehill Dancer, and was indeed covered by him. "Danehill Dancer was a very good match for Look Here physically as she is a very light filly," Richmond-Watson said. "She was covered at the end of April but we had no luck. Sea The Stars, who is just as good a match physically, is not a bad substitute!"
It is understood that Danehill Dancer, who had a book of 156 maresin 2009, has been very slow to cover this season, although this has not substantially affected the size of his book or his fertility. The sire of Choisir and Mastercraftsman will not be covering to southern hemisphere time in Australia his year.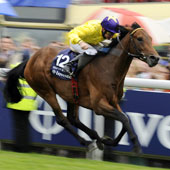 Sea The Stars: has covered 115 to 120 mares so far this season
PICTURE:
EDWARD WHITAKER
Sea The Stars has covered 115 to 120 mares so far, according to Gilltown Stud manager Pat Downes. Although a number of his mares are awaiting scans, 80 have so far been confirmed in foal
They include the Aga Khan's brilliant filly Zarkava, as well as her dam Zarkasha, multiple Group 1 winner Lush Lashes, French Group 1 winner Alpine Rose, and Asmara, the dam of Azamour.
By switching to Sea The Stars, Richmond-Watson has maintained a visit to a Danzig-line stallion, although Danehill Dancer is a son of Danehill and therefore a grandson of the great horse, while Sea The Stars is a great grandson, via Cape Cross and Green Desert.
Look Here is the last of seven foals, all winners and all by different sires, from her unraced dam Last Look, who died in 2007. Richmond-Watson bought Look Here's grandma Derniere Danse in 1991 for just 47,000gns.