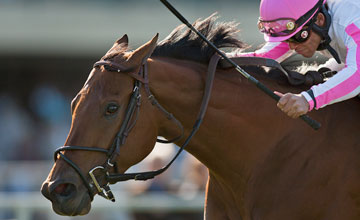 Dubawi Heights added to an illustrious year for her sire
PICTURE:
Alex Evers/EquiSport Photos
Dubawi biggest riser as Darley set fees for 2012
DARLEY has increased fees for three of its 23 stallions and dropped five others in price, while new boy Poet's Voice will start at Dalham Hall Stud at £12,000.
The biggest rise concerns Dubawi who has risen to £75,000 from £55,000 (£20,000 in 2010) on the back of another successful season which has seen Lucky Nine shine in Hong Kong, Dubawi Heights win at Grade 1 level in the US, Monterosso take a Group 2 in Dubai, Secret Admirer strike in a Group 1 in Australia, Dubawi Gold finish runner-up in two European Classics, and Worthadd win at Group level in Italy.
The other big climber is Exceed And Excel, whose fee near doubles to £22,500 from £12,000 thanks to Excelebration and a strong crop of juveniles.
Teofilo, based at Kildangan, increases to €25,000 from €15,000 after Parish Hall's Dewhurst success gave him a Group 1 winner from his first crop.
Those to fall in fee are Authorized (£10,000 from £15,00o), Shirocco (£7,000 from £10,000), Iffraaj (€10,000 from €15,000), Manduro (€10,000 from €15,000) and Workforce's French-based sire King's Best (€12,000 from €15,000).
Sam Bullard, Darley's director of stallions in Europe, said: "We have a wonderful line up of stallions and their achievements this year have been outstanding.
"Our elite stallions Dubawi, Shamardal and Cape Cross, continue to sire Goupr 1 winners each and every year. Exceed And Excel has had an exceptional twelve months - siring Excelebration and Margot Did in addition to his southern hemisphere colt, Helmet, who has won three G1s this year. Our young stallion Teofilo has made a particularly pleasing start."
Bullard added: "Our 2012 fees will again give breeders with quality mares the confidence and opportunity to continue to produce top-class horses. We look forward to talking to our clients about their plans during the forthcoming breeding stock sales."
Dalham Hall Stud
Dubawi £75,000 (up £20,000)
Exceed And Excel £22,500 (up £10,500)
New Approach £22,500 (no change)
Poet's Voice £12,000 (new)
Authorized £10,000 (down £5,000)
Halling £10,000 (no change)
Shirocco £7,000 (down £3,000)
Kheleyf £4,000 (no change)
Kildangan Stud
Cape Cross €35,000 (no change)
Teofilo €25,000 (up €10,000)
Raven's Pass €22,500 (no change)
Vale Of York €5,000 (no change)
Echo Of LIght €3,000 (no change)

Haras du Logis
King's Best €12,000 (down €3,000)
Refuse To Bend €5,000 (from £4,500)
Alexandros €4,000 (no change)
Country Reel €4,000 (no change)
Creachadoir €3,000 (no change)
The Royal Studs, Norfolk
Royal Applause £9,000 (no change)
Terms: Oct 1, Special live foal