'No better opportunity to buy a racehorse'
ON THE eve of the first auction to be run under the banner of the Racing Post Breeze-Up Bonus – tomorrow's Goffs Kempton Breeze-Up – top consignor Con Marnane said that the bonuses on offer meant "there has never been a better opportunity to buy a racehorse."

Marnane was one of the architects of last year's bonus launch, when 52 breeze-up purchases landed their owners a £10,000 jackpot between April 30 and September 2.
This year the prize fund has been spread so that each winner receives a £5,000 bonus, with Marnane explaining: "We decided to make the bonus £5,000, rather than £10,000,this year so that the horses in later sales have a better chance of winning a bonus. Instead of 50 bonuses last year, there should be about 100 this time so that more people can get a bite of the cherry.
"But we thought it important that people still had the opportunity to win £10,000 so that's why you have the chance to win up to two bonuses. You just have twice as much fun winning the £10,000! The bonus was well received last year and we're delighted that the Racing Post have come on board this time.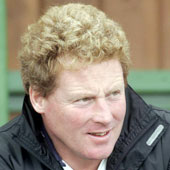 Con Marnane: "twice as much fun"
PICTURE:
Caroline Norris
"I know I'm the always the eternal optimist but I really do think that there's never been a better opportunity for an owner buying a horse. We're doing everything for them bar putting the horse past the winning post."
Because the Breeze-Up Bonus will this year run in tandem with theRacing Post Yearling Bonus Scheme, bumper payouts could be in store, as Marnane explained: "If a horse is also qualified for a £10,000 prize from the Racing Post Yearling Bonus Scheme, an owner can win up to £20,000 from the bonuses before their prize money.
"Some owners might win enough not even to need to pay any training fees."
Marnane said the number of viewers inspecting his horses at Kempton left him "very hopeful" of a good sale.
Among other consignors, Hillwood Stud's Charlie Vigors said last night: "Hopefully the new bonus scheme will help the middle to lower end of the market. If you buy a horse for £15-£20,000 at Kempton and then win a race, you've got something back on your capital in one hit and your horse is worth what you paid if not a bit more.
"A lot of our horses are client horses or yearlings we retained that we thought would breeze well and be particularly attractive with the bonuses. We've had interest at home from a couple of trainers already, which is an encouraging sign, and I think - with so many horses doing well - that people now realise the breeze-ups are a source of future Group winners.

Thomond O'Mara of Knockanglass Stables said both the Racing Post-sponsored bonuses were "a brilliant help, especially with the prize money situation in Britain and Ireland.
"We genuinely think we've got a proper bunch of horses this year but I think it could be an even more selective market than last year although I hope not. But I always try to be optimistic and I have been in the business when things wereas bad as they are now. But you were always surprised then by who turned up at the sales."