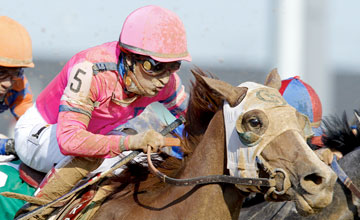 Blind Luck: the Grade 1 winner was one of 14 seven-figure lots on Day 1 of Keeneland November, 11 of which were part of the Evans dispersal
PICTURE:
EDWARD WHITAKER
Huge gains on first day of Keeneland November
BOLSTERED by the dispersal of Edward P. Evans' Spring Hill Farm, the first day of the Keeneland November Breeding Stock Sale in Lexington, Kentucky, witnessed huge across-the-board gains.
A total of 14 horses sold for seven-figure sums compared to just eight throughout the whole salelast year. All bar three of this year's million dollar plus lots were from the Evans dispersal, which has already produced an aggregate over $25 million.
Gross was up 62 per cent, while average increased a whopping 102 per cent and median was up 64 per cent when compared to this session last year.
"Clearly, the Evans Dispersal had a tremendous impact on this session," said Walt Robertson, Keeneland's vice president of sales. "Ned was a smart, savvy, competitive horseman and he was one of the leading breeders in the world.
"It was a fitting tribute to his vision and the hard work of his team that some of the most respected and expert horsemen in the world vied for an opportunity to own a piece of his life's work."
The day saw 147 horses gross $63,276,500, for an average of $430,452 and a median of $230,000. In 2010, a total of 183 horses sold for a gross of $38,970,000 million, an average of $212,951, and a median of $140,000.
Leading the session was Christmas Kid, who sold to Coolmore for $4.2 million. She was consigned by Lane's End, agent, the agency handling the Evans dispersal.
A Grade 1 winner, Christmas Kid is out of the multiple graded stakes-winning Green Desert mareChristmas Gift. The seven-year-old Lemon Drop Kid mare was sold in foal to Bernardini.
Aisling Duignan, director of bloodstock for Coolmore's US-based Ashford Stud, said the bay mare would be sent to Ireland to be bred to Galileo.
"That's who she was bought for," said Duignan. "Her first foal was really good, and she's magnificent looking. So she'll go home to Galileo."
The top selling weanling of the session also came from the Evans dispersal. A daughter of Medaglia d' Oro sold to Ben Leon's Besilu Stables for $2.6 million, a record price for a weanling filly at the sale.
Clearly interested in the family, Leon thn spent $800,000 for the filly's mare Quiet Dance, the dam of 2005 North American Horse of theYear Saint Liam. He also bought two of Quiet Dance's other daughters, Dance Quietly and Quiet Giant, for $2 million and $3 million, respectively.
"In any dispersal you have the opportunity to purchase some quality mares that otherwise would not have been available," said Leon. "I wish Mr. Evans was here instead of this opportunity."
Leon ended the session as the leading buyer, purchasing six lots for a total of $11.4 million. All of his purchases came from the Evans dispersal.
Evans operated Spring Hill Farm in Casanova, Virginia, for more than 40 years prior to his death in December 2010. During that time, he bred more than 100 stakes winners, including Saint Liam and multiple Grade 1 winner Quality Road.
The three seven-figure lots not part of the dispersal were the champion Blind Luck, who fetched $2.5 million, the Grade 1 winner Life At Ten, who sold for $1.95 million and a weanling by Henrythenavigator and a half-sister to 2010 North American Horse of the Year Zenyatta. She fetched $1.5 million.
Book 1 of the Keeneland November sale concludes on Tuesday. The breeding stock sale runs through November 17.
Live coverage throughout the sale log on to racingpost/bloodstock