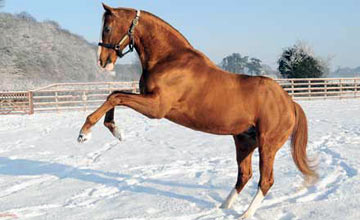 Selkirk: "A wonderfully kind and co-operative character"
Champion miler and leading sire Selkirk dies

SELKIRK, a champion on the racecourse and one of the most successful British-based stallions of recent times, died on Thursday at Lanwades Stud in Newmarket from the effects of old age, two days after he officially turned 25.
Selkirk stood his entire stallion career at Lanwades - never covering books of more than 100 mares - and sired the earners of more than £35 million, including 90 individual stakes winners, 45 Pattern-race winners and 15 Group 1 winners.
The son of Sharpen Up was represented by two top-flight winners last year - Flower Bowl Invitational Stakes heroine Nahrain and Dubai Duty Free winner Cityscape.
Ian Balding trained Selkirk for owner-breeder George Strawbridge to win six of his 15 starts. At two he won the Listed Stardom Stakes on his debut and at three he beat Kooyonga to land the Queen Elizabeth II Stakes.
In the following season he scored in the Lockinge (then Group 2), Celebration Mile and Challenge Stakes, all by margins in excess of two lengths.
He narrowly failed to gain a second Group 1 success when going down by just a head to Marling in a memorable Sussex Stakes.
Those efforts earned Selkirk the honour of champion miler in Europe in 1991 and 1992 and champion older horse in Britain in 1992.
Balding said: "He was just the most wonderful horse to have around - he had a beautiful temperament. He was a real good horse, we had three seasons of him and it was just a pleasure.
"He was a late starter - he looked pretty gormless until he got on the racecourse. He wasn't a horse that struck you at home, like Mill Reef. But he must have shown something because I wouldn't have run him in a Listed race first time out.
"He was a bit unlucky, too. That wonderful race he had with Marling in the Sussex Stakes, which will always be remembered, he was just a gallop short. He had a bit of a setback and he wasn't 100 per cent and that showed in the last couple of yards, which I was always rather sad about."
Balding also enjoyed success with Selkirk's progeny, training the likes of Border Arrow and Trans Island to Group successes.
Selkirk, out of Irish 1,000 Guineas third Annie Edge, has also come to the fore as a broodmare sire with his daughters producing Yorkshire Oaks heroine Quiff (out of 1,000 Guineas winner Wince) and other Group 1 winners such as Mount Nelson, Simply Perfect and Termagant.
After suffering a decline in fertility in 2009 Selkirk was temporarily retired from stud duty but he covered limited books in 2010 and 2011 and his small final crop are yearlings.
Lanwades Stud owner Kirsten Rausing, who oversaw Selkirk's stallion career for 21 years, said: "I feel immensely privileged to have had Selkirk standing at Lanwades throughout his stud career.
"He was a wonderfully kind and co-operative character. We will greatly miss him, but his memory will live on, not only here at the stud, but throughout the thoroughbred industry in this country and abroad."
Group 1 winners sired by Selkirk
Squeak (filly born 1994) Beverley Hills Handicap,
Matriarch Stakes
Field Of Hope (f. 1995) Prix de la Foret
Wince (f. 1996) 1,000 Guineas
Altieri (c. 1998) Premio Presidente della Repubblica
Leadership (c. 1999) Gran Premio di Milano
Sulk (f. 1999) Prix Marcel Boussac
Favourable Terms (f. 2000) Nassau Stakes
Prince Kirk (c. 2000) Prix d'Ispahan
Kastoria (f. 2001) Irish St Leger
Red Bloom (f. 2001) Fillies' Mile
Selmis (c. 2004) Premio Presidente della Repubblica
Cityscape (c. 2006) Dubai Duty Free
Daryakana (f. 2006) Hong Kong Vase
Announce (f. 2007) Prix Jean Romanet
Nahrain (f. 2008) Prix de l'Opera, Flower Bowl Invitational Stakes