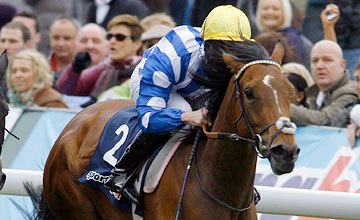 Chachamaidee: a top-class racemare on the track
PICTURE:
Mark Cranham
Chachamaidee set
for date with Dubawi
GROUP 1 winner Chachamaidee will visit Dubawi this season following the arrival of her second Galileo foal.
The star resident of Lady Cecil's Cliff Stud in North Yorkshire has travelled to Newsells Park Stud in Hertfordshire to prepare for her visit. She is due to foal on May 18.
Chachamaidee, a daughter of Footstepsinthesand bred by Cheval Court Stud, was trained by the late Sir Henry Cecil to win seven of her 21 starts – including when beating the boys in the Lennox Stakes and being promoted over first-past-the-post Duntle in the Matron Stakes.
Cliff Stud manager Guy Stephenson said her first foal, a Galileo yearling filly named For Henry, was doing well.
"She's out in the paddock with four others," said Stephenson. "She's a tough one and she can be a bit of a madam when she feels like it, but that's a good thing – she was very small when she was born, but not any more. She's a nice filly."
Stephenson added the stud was enjoying a busy season, with new owners sending horses to the stud as recently as last week.
Dubawi, whose top-flight performers include the 2,000 Guineas winners Makfi and Night Of Thunder, is standing the current season at Dalham Hall Stud for a fee of £125,000.