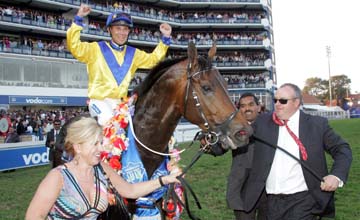 Bold Silvano has German and South African breeding links
PICTURE:
goldcircle.co.za
Silvano a boost for Germany and S Africa
AFTER two of the big races were dominated by Australian breds, it was the turn of German and South African breeding to take centre stage at Meydan with the victory of Bold Silvano in round 2 of the Al Maktoum Challenge.
His sire, Silvano, a son of Lomitas, stood at his breeders' Gestut Fahrhof between 2002 and 2004 before he moved to the Main Chance Farm in South Africa, owned by Andreas Jacobs whose family are synonymous with Fahrhof.
Renowned as a high-class globe-trotter, Silvano has sired 12 other South African Group 1 winners, among them Classicwinner Kings Gambit (formerly trained by Tom Tate) and Investec Cape Derby winner Bravura.
Bold Silvano's dam was an unraced mare by Al Mufti, the same broodmare sire as Kings Gambit. Second dam Saffron produced two South African Group 1 placed runners in Eastern Venture and Cape Saffron.