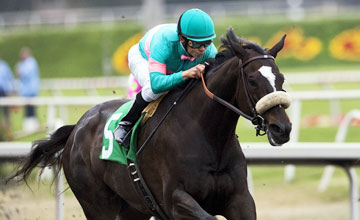 Zenyatta: confirmed in foal to Bernardini at 28 days
PICTURE:
EquiSport photos/Alex Evers
Zenyatta confirmed in foal at 28-day stage

CHAMPION Zenyatta is holding her pregnancy, an ultrasound examination taken at the 28-day stage confirmed on Wednesday.
Owner Jerry Moss told the Daily Racing Form that all continues to go well with the superstar mare, who was covered by Bernardini on February 23.
Moss said: "I feel great about it. We're really pleased with everything."
Zenyatta, who resides at Lane's End Farm in Kentucky, will be scanned again in about 42 days on around April 4 - 6. The daughter of Street Cry retired as the winner of 13 Grade 1 races including the 2009 Breeders' Cup Classic.
Zenyatta's next major ultrasound examination is likely to take place 40 to 42 days after her mating, around April 4-6.