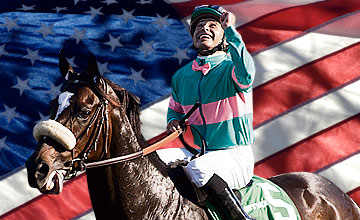 Zenyatta: has delivered a Bernardini colt at Lane's End Farm in Kentucky
PICTURE:
Alex Evers/EquiSport Photos
It's a boy! Zenyatta delivers her first foal
BRILLIANT American racemare Zenyatta delivered her first foal at Lane's End Farm in Kentucky on Thursday.
The new arrival is a dark bay colt by Bernardini and he arrived at around 10pm local time.
Zenyatta's owners Jerry and Ann Moss announced the birth on the mare's online diary, which is written in the first person.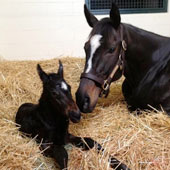 Zenyatta and her newborn colt foal
PICTURE:

Jerry and Ann Moss
"Dear, dear, dear friends, I am so proud and elated to share the news with you that I am now a mom - I just gave birth to a lovely dark baycolt," the diary read.
"My adorable foal weighed in at 130lb, has a white star on his forehead and some white on his feet. As Ann [Moss] commented when she saw him, 'he has polka dots on his feet, Zennie, just like you.'
"All went very well with the foaling. I must say. I did it like a champ! My foal is absolutely precious and I am so pleased to share this entire experience with all of you my precious and loving friends."
"Zenyatta is an amazing mother," said owners Ann and Jerry Moss later in a release. "She is so proud of her foal, and so are we. He is already showing his mother's spirit, and the way Zenyatta encourages and nurtures her precious baby is simply beautiful."
Will Farish, owner of Lane's End, praised the team involved with caring for Zenyatta.
"We are honored to be chosen by the Mosses as the farm to care for this great mare and are proud of our team here, which has cared for her and assisted in the foaling last night," said Farish. "We could not be more pleased for Zenyatta's owners and all her fans."
Zenyatta, a daughter of Street Cry, won 19 of her 20 starts including 13 at the top level. She became the first female to win the Breeders' Cup Classic in 2009 and went down by a head in her repeat bid in the race one year later.
Bernardini has got off to a flying start at stud by supplying Grade 1 winners such as Biondetti, Stay Thirsty and To Honor And Serve.