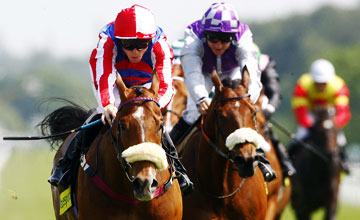 Barney McGrew: the son of Mark Of Esteem is the second Chipchase Stakes winner bred by Heather Raw following Utmost Respect
PICTURE:
Robin Gibson
Barney another blue
chip performer for Raw
IF you thought Aidan O'Brien was farming the Irish Derby, take a look at small breeder Heather Raw's record in the Chipchase Stakes.
Raw has bred two of the last three winners of the Newcastle sprint - the ill-fated Utmost Respect in 2008 and Barney McGrew on Saturday. What makes the feat all the more remarkable is that, while O'Brien has the full weight of Coolmore's finances and blueblooded breeding stock behind him, Raw has bred the two Chipchase Stakes winners at her 50-acre Shoreham Stud at Robertsbridge in East Sussex, which she runs herself with the help of two part-time staff.
"It's just coincidence, really," Raw laughs. "And a lot of luck - I was very fortunate when I bought Barney McGrew's dam, Success Story, at the 1999 Tattersalls December sales. At 32,000gns she was the most expensive mare I've ever bought- my husband John thought I was mad.
"The mare's three-year-old daughter Film Script won the Lingfield Oaks Trial in the following spring and in the November we sold the filly foal by Royal Applause that she was carrying at the time of her sale for 72,000gns, so she paid for the mare and two or three of her covers."
Success Story was bred and raced by the Queen. She is by Sharrood and out of Her Majesty's Group 2 winning-mare Starlet, and, luckily for Raw, the family continued to sparkle after her purchase, with Film Script producing Chesham Stakes winner Free Agent, the last horse to carry the Queen's silks to victory at Royal Ascot, and Success Story's fourth foal, National Park, winning a Listed race in America.
Shoreham Stud sells its produce as foals - "we're a small operation and keep costs accumulate like muck on a shovel" - and so Raw faces the precarious balancing act of all smaller commercial breeders: looking for value but maintaining market appeal in mating plans.
"You can only follow fashion so far," Raw says. "You can send a mare to a stallion who is in favour with buyers one season, and by the time it comes to sell the foal that sire can have already gone cold - and then the mare's stud record is spoiled.
"But if you love horses you have to trust your eye and use stallions who will be a good physical and pedigree match for your mare, regardless of fashion. That's probably the best recipe for success."
Raw concedes that sometimes the approach doesn't work: the first foal produced by Utmost Respect's dam, Utmost (who she subsequently sold), was by Beckett, a National Stakes winner who stood at Tony O'Callaghan's Tally Ho Stud but failed to make the grade. The foal failed to sell for 800gns at the sales.
But when the approach does work, it can work wonders, as Raw explains. "While I was at Tally Ho seeing Beckett, I saw another stallion coming out of his box. He was Tony's favourite horse and he really did take the eye, so I resolved to send Utmost to that stallion in the following season." The sire was Danetime and the result of the mating was Utmost Respect, who sadly died from peritonitis last year after winning the Duke of York and Greenlands Stakes.
Barney McGrew's sire Mark Of Esteem went a little cold after Raw sent Success Story to him so his foal price of 25,000gns looks a snip now, considering the horse has earned in excess of £150,000 in prize-money. Last year the mare was sent to Invincible Spirit but she slipped the foal - a shame, as that sire keeps producing the goods and the foal would almost certainly have been hot property.
Hopes are high that Success Story keeps her next foal, who would be by Arakan. "Joe Foley [owner of Ballyhane Stud, which stands the sire] is a good judge and the stallion looks the part, so I'm hopeful," Raw says. The offspring would be bred on the same cross as Arakan's flagbearer this year, Dick Turpin.
Raw took the plunge into 'serious' racehorse breeding in the early 1990s when she finished paying university fees for her children. Her pursuits have proved enriching, sometimes financially - Success Story's foals have grossed over 350,000gns to date -but more consistently in terms of happiness. "I love getting up in the morning to feed the horses," she says, "and each day we tape the racing channels to keep abreast with what's going on.
"But breeding is a costly business and I think we must be fools to enjoy it!"