Australian court
upholds ban on AI
THOROUGHBRED breeding in Australia will continue to be done the traditional way after the Federal Court on Wednesday ruled against the legalisation of artificial insemination.
The long-running court case was instigated by former bookmaker and racing administrator Bruce McHugh, who called for the ban on the artificial insemination (AI) of thoroughbreds to be lifted in Australia.
Under the international rules, only horses conceived via the direct insemination of a mare by a stallion can be registered to breed and race.
McHugh had challenged that rule in the Federal Court in 2011, arguing the ban on artificially bred horses was both a restraint of trade and a breach of the Trade Practices Act.
Handing down his judgment in Sydney on Wednesday, Justice Alan Robertson dismissed both arguments.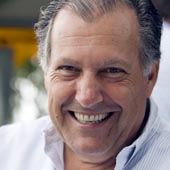 John Messara: ruling 'keeps us within the international community'
He said McHugh had failed to show the court the AI rule was a restraint of trade, because he accepted it was a reasonable provision when it was established "many decades ago to prevent the attribution of incorrect paternity to a thoroughbred horse".
Justice Robertson also dismissed the argument the ban on AI breeding was a breach of the Trade Practices Act.
The bodies opposing McHugh, which included Thoroughbred Breeders Australia, the Australian Turf Club, Victoria Racing Club and Australian Stud Book, feared the legalisation of AI would have effectively isolated Australian thoroughbreds from the rest of the world.
Outside court, Australian Racing Board CEO Peter McGauran said he felt "a sense of great relief" at the judgment.
"A sport is entitled to arrange itself according to its own requirements and needs," McGauran told reporters.
"It would have been impossible for Australia to remain within the international trading community if we had raced AI horses with naturally conceived thoroughbreds.
"A judge has found the rules of our sport are not anti-competitive."
John Messara, proprietor of Arrowfield Stud and Racing NSW chairman, also welcomed the decision.
"It keeps us within the international community of racing because they were international rules and in effect, Australia would have been out of line with the rest of the world," Messara said.
Michael Ford, keeper of the Australian Stud Book, said the Federal Court's determination had protected the integrity of racing.
"Because of the global market for breeding and racing of thoroughbreds, and the rules on artificial breeding in other jurisdictions, the introduction of artificial insemination into Australian thoroughbred breeding would have had serious consequences for our industry," Ford said.
"This is a comprehensive victory for the hundreds of thousands of Australians who derive a livelihood from the thoroughbred racing industry, which will now remain a significant driver of the Australian economy."