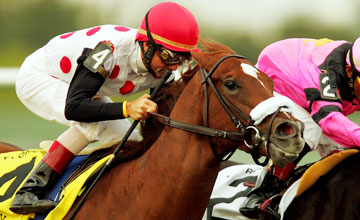 High Fly: Florida Derby winner has been gelded after covering small books since retiring to stud in 2006
PICTURE:
Getty Images
Young stallion High Fly retired and gelded
YOUNG Grade 1-winning sire High Fly has been taken out of stud duty and gelded.
Owner Charlotte Weber and her stud manager Bruce Hill took the decision to pension the nine-year-old son of Atticus after he covered just one mare during the 2010 season at WinRich Farm in Indiana. He has returned to his owner's Live Oak Stud in Florida, where he spent his first three seasons.
From two crops aged three and above, High Fly is the sire of 12 winners.
"We gave a lot of thought to it and it's because of a number of factors," Hill told The Thoroughbred Times. "We thought it was the best thing for the industry, the horse, and taking care of him and giving Mrs Weber pleasure.
"Having to hustle to try to figure out how to find 15 to 20 people to breed to a horse, that's the part of the industry that's created our own problem. We felt a responsibility to do right by the industry, and we know he's happier. He's got a pal, and he's not in solitary confinement because he's a stud, and with no marescoming to him, that's a miserable life."
Trained by Nick Zito, High Fly became a leading fancy for the 2005 Kentucky Derby after denting the reputations of Bandini and Noble Causeway with impressive victories in the Grade 2 Fountain Of Youth Stakes and Grade 1 Florida Derby.
In the Kentucky Derby itself, he pressed the lead before fading to finish eight lengths behind the winner Giacomo.
He retired as the winner of five starts and nearly $1m in earnings.