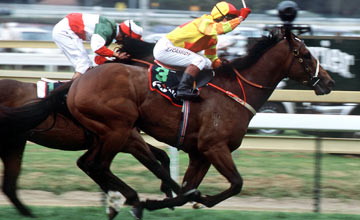 Redoute's Choice: the sire's fee has been almost halved since 2007
PICTURE:
Getty Images
Redoute's Choice stud
fee reduced

ARROWFIELD Stud in Australia has cut the stud fee for one of the country's most successful stallions, Redoute's Choice.
The 14-year-old son of Danehill will command a fee of A$176,000 (£106,000, €120,000) in the forthcoming southern-hemisphere breeding season.
That is a price drop of 10 per cent from last year and is nearly half his 2007 fee of A$330,000.
Redoute's Choice rose to fame by siring Group 1 winners such as Miss Finland, Samantha Miss, Snitzel and Stratum.
His son Musir won the Group 2 UAE Derby last month and he was the sire of the A$1,875,000 top lot at the Inglis Easter yearling sale in Sydney earlier this month.
Arrowfield Stud supremo John Messara said: "At his 2010 fee we believe breeders have an outstanding opportunity of breeding a highly profitable yearling, or a champion – or both.
"Redoute's Choice has just completed a limited northern-hemisphere breeding season and to date has nine of 11 mares in-foal on the first cover. We are therefore confident the setback of the 2009 season is well and truly behind us."
Leading Australian first-season sire Snitzel has had his fee increased from A$5,500 to A$27,500 and his fellow Arrowfield freshman Starcraft, who stood at Cheveley Park Stud in Newmarket for one season, has also had his fee increased, to A$38,500.
ARROWFIELD STUD 2010 FEES
A$1 = £0.60 = €0.68
All American (New) A$16,500
Charge Forward A$33,000
Danzero A$16,500
Flying Spur A$55,000
Hussonet Foal shares only
Manhattan Rain (New) A$49,500
Not A Single Doubt A$13,750
Redoute's Choice A$176,000
Snitzel A$27,500
Starcraft A$38,500