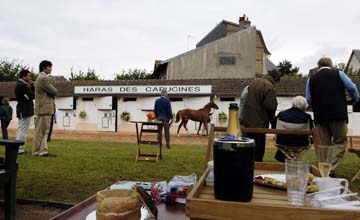 Despite subdued Maktoum activity, new buyers were to the fore at Arqana
PICTURE:
Edward Whitaker / racingpostpix.com
Sellers hope new buyers will fill Maktoum void
THE decline in Maktoum spending at Arqana's August Yearling Sale, which could become a feature of the 2010 sales season, need not be a huge setback for the bloodstock industry, according to one leading vendor.
Paul McCartan, the manager at Croom House Stud, which sold two of the three lots it sent through the ring at Deauville and has six set for Doncaster next week, said the downscaling could attract other buyersto the top level.
While last year's leading buyer Sheikh Hamdan Al Maktoum bought no yearlings and Sheikh Mohammed's spending was much reduced, one of the keypoints of Deauville was the increased investment of Sir Robert Ogden, while agent Charlie-Gordon Watson purchased seven lots for new clients worth €2.4 million. They included the €600,000 sale-topping daughter of Galileo.
McCartan said: "Deauville showed that there is still plenty of money around for a nice horse that ticks all the boxes. The reduced spending for the Maktoum family was a big talking point from Deauville, but the Maktoums have been terrific supporters of our industry for a long time and everybody has benefitted.
"A staged reduction would be best for everyone and would also mean that other owners might come into the market as they feel they can compete more.
"This is what we can look forward to as we head into Doncaster andthe other sales. In the longer term I am hugely optimistic that if we can get through the next few years, our industry will be much healthier through smaller numbers of horses and a greater diversity of buyers."
Successful pinhooker Willie Browne said: "I was pleasantly surprised with Deauville, I thought trade was good. There was very little Arab money around but still plenty of people looking to buy horses.
"The Arabs are a huge loss, but it's an amazing game, there's always someone new to fill the breech. I'm sure most of the people who bought at Deauville will buy again at Doncaster. [Sheikh Hamdan's] Shadwell are usually pretty strong at Doncaster, so hopefully they'll be involved again."
Newsells Park Stud took ten yearlings to France and all sold, one privately, including a Galileo colt for €420,000 and a son of Monsun bought by Juddmonte Farms for €320,000.
Stud manager Julian Dollar said: "If you look at Deauville, on the whole it stood up pretty well - the aggregate was down about 25 per cent but there were fewer horses.
"We sold as per expectations really, we finished about ten per cent above our estimates. I think it would have been unrealistic to expect Deauville not to show a drop in figures."
As trade levels at last year's DBS Premier sale (previously the St Leger sale) were at the readjusted level dictated by the current economic climate, Dollar believes that figures at next week's Premier sale might even improve compared to 2009.
He said: "I think Doncaster has already made those readjustments. It's become a very well-regarded sale for a certain type of horse, the early two-year-olds.
"It'll be buoyant enough, I think it might be up on last year. We have a really nice bunch of horses going there and they should all find homes."