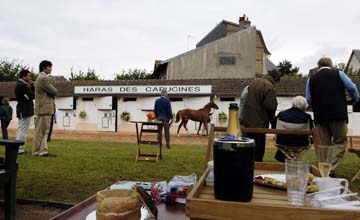 Deauville will host a new yearling sale for Arqana on November 15
PICTURE:
Edward Whitaker/racingpostpix.com
Arqana changes format with newyearling sale
ARQANA has altered its 2011 calendar by creating a new yearling sale on Tuesday November 15 in Deauville.
The sale, which will suppress the December Yearling Sale that follows the breeding stock auction, will take place the day after the store and horses-in-training session, which relocates from Saint-Cloud to Deauville this year. They will be presented as a single catalogue.
"Selling those yearlings that cannot be selected for the August or October sales is a worry for all breeders, hence for us too," said Eric Hoyeau, president of Arqana. "The December Yearling sale, placed at the very end of the sale season and in the wake of the breeding stock sale, which didn't create much of a synergy, was not the ideal showcase for these individuals.
"Therefore we are very pleased to have reached a solution that will bring many positives to breeders. The earlier date of course, but also the combination with the horses in training session. This will give Flat and National Hunt trainers, who will be in Deauville to turn their stock over, an immediate opportunity to reinvest in young stock. Moreover, with both days being assembled into one catalogue, the sale will reach the critical size to attract more foreign buyers.
"Finally, the brand new sales pavilion will offer enhanced comfort to everyone involved in these twodays of sale."