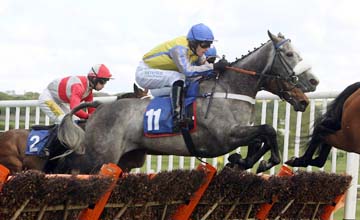 Any Given Day: bought by Donald McCain at the Autumn HIT sale in 2008
PICTURE:
JOHN GROSSICK
Competition strong for jumps horsesoff Flat
THE traditional sourcing of jumps prospects from the autumn horses in training sales has become a much harder process, leading trainers said yesterday.
A strong contingent of foreign buyers looking for horses to race on the Flat in Australasia, the US and the Middle East have strengthened the horses in training market, but in doing so have made it tough for the jumping fraternity.
Charlie Mann, who bought four horses this week for 52,000gns, said: "It's very difficult because there are too many different markets for horses - Australia, the Middle East, Dubai, you're competing with too many people.
"John Hills had a nice horse that would have made a good jumper [Mount Athos, sold for 190,000gns to race on the Flat]. More of the top lots have been bought to stay on the Flat this year."

Mann was among the buyers, along withGordon Elliott and Tim Vaughan, at Brightwells' first sale of Flat horses specifically selected as jumping prospects, held at Cheltenham on October 15.
"There was a lot more value at Cheltenham than at Newmarket", he said. "I'm surprised the Cheltenham sale wasn't supported by Flat trainers [as buyers] more. Usually I'd always buy ten horses on spec at this sale but in the current climate you can't do that. You have to be careful; the days of buying ten horses on spec are long gone."
Donald McCain said he had struggled to fill orders at Newmarket. "It was terribly difficult," he said. "There were so few horses that were suitable if you were looking for a 1m2f to 1m6f three-year-old, especially when you consider there were nearly 1600 lots.
"I paid £40,000 for a 60-rated horse [Any Given Moment at Cheltenham] and I thought I might have paid too much, but at Newmarket they were paying £60-80,000 for 60/70-rated horses. I went there to find one [juvenile hurdler] and couldn't get one that I really liked, so we'll be soldiering on with no juveniles."
Meanwhile, top jumps agent Anthony Bromley said he has reduced hisspending on ex-Flat performers, explaining: "I made a decision in the spring of going back to buying more proven horses from France and less off the flat because they [the French horses] have always served me best and we'll see by next April if I'm right.
"So I did go into this sale with fewer orders but that was more by design and I have been busier than last year buying privately through the year. There are plenty of people wanting jumpers and its encouraging that a lot ofthem are aged 50, rather than 70. I see that's it's the same with other trainers when I go racing, it is not just my clients.
"We have done well in the past at this sale, buying the likes of Punjabi and Ghimaar, but I might have struggled if I did have more to buy because there was a shortage of really nice three-year-old to go jumping this year.
"As a result the few that did come up for sale were hard to buy, but you did feel that overall this week there weren't as many jump orders about."