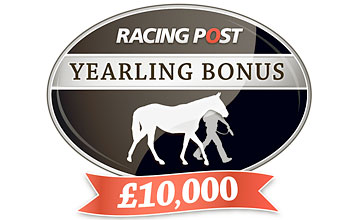 The Racing Post Yearling Bonus pays out £10,000 to winning owners
PICTURE:
Racing Post
All systems go for
Bonus registrations
THE Racing Post Yearling Bonus scheme is taking registrations for the current crop of yearlings intended for sales in Britain and Ireland from Wednesday.
The scheme committee announced in April that the incentive would continue for a fourth year, while ­exploring the possibility of developing the scheme for the future.
The costs of registering a ­yearling to the scheme remain similar to last year: £200 is the first payment needed and the main ­criterion to ­qualify is that they must be ­catalogued in a ­­British or Irish yearling sale.
Once a horse is sold at ­auction the second-stage ­payment of £200 will be deducted from the ­vendor's sales proceeds and the ­purchaser will have the option to ­complete ­eligibility by ­paying the final stage of £350 by ­December 17.
The only ­significant change to the 2012 scheme is that eligible horses going to the ­British or Irish ­breeze-up sales will require the purchaser to pay the final stage.
As in ­previous years the ­participating sales ­companies – DBS, Goffs, ­Tattersalls, ­Tattersalls Ireland, Brightwells and Goresbridge – are putting in a percentage of the contribution made by vendors, thereby ­leaving all the fund total achieved to be paid out to ­winning owners in bonuses.
Scheme ­co-ordinator Kerry Murphy said: "The scheme was launched in 2009 amid overproduction and an uncertain ­market. Although since then the foal crop has ­levelled out and demand at the very top has been ­encouraging, lower- and middle-priced yearlings are still hard to sell.
The committee were keen to keep it as simple and effective as possible, hence there is no change to the £10,000 win going direct to the owner.
"Hopefully vendors will still feel they get a useful ­marketing tool for their money, which reaches not just British and Irish buyers but those in Europe, to whom the bonuses have become ­increasingly important."
The deadline for the DBS Premier and St Leger Festival yearling sales is July 6. July 16 is the deadline for Tattersalls, Tattersalls Ireland and Goffs.
The deadline for all other British and Irish sales is the sales entry closing date.