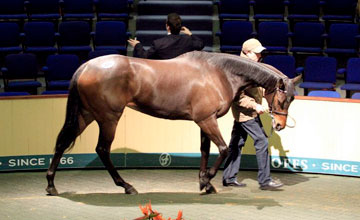 Teo's Sister: sold to French breeder Frank Benillouche for €500,000
PICTURE:
Goffs
Benillouche strikes for Teo's Sister at €500,000

AT €500,000, Teofilo's winning own-sister dominated the concluding leg of the Goffs February Sale on Thursday when the company's first auctionof the year posted a much improved set of final returns.
A total of 103 more horses came under the hammer at this year's renewal of the February Sale which saw its turnover double from around €1.8 million to just over €3.7 million. The average improved by 54 per cent as it went from €8,700 to €13,381 while the median progressed by ten per cent to €5,500. In addition the clearance rate held firm at 62 per cent.
Jim Bolger exerted a profound influence on the company's November Sale several months ago and his decision to offer Teo's Sister this week provided the February Sale with a coveted centrepiece. The bidding for the four-year-old daughter of Galileo, who won a Leopardstown maiden on her debut in July, opened up at €200,000 before the hammer eventually came down in favour of Frank Benillouche, of the promient French stud Haras de Bernesque, at €500,000.
"She's lovely filly and and a very well bred one," said Benillouche, whose farm has been a successful French operation for the last number of years and has in the past stood the likes of Marchand De Sable.
"We were looking to buy a quality mare like her for the stud and we are very pleased to have got her. She's from a top family and she is a really good mare to bring back to the stud. I thought that she was good value."
A short while later the Castlebridge Consignment offered the Grand Lodge mare Tarbela, whose New Approach foal made €120,000 here on Wednesday. The dam of the Chesham Stakes winner Big Audio, who is closely related to a number of high class flatrunners, was sold in foal to Arcano and she came to agent Cormac McCormack at €160,000.
"I've bought her for a long established client and she will be visiting Canford Cliffs this year," reported McCormack. "She's already bred a Royal Ascot winner and comes from a strong and current family."
In his end of sale statement Henry Beeby remarked: "There has never been any doubt in our minds that the Goffs February Sale is a class above in terms of auctions at this time of year and trade over the last two days has clearly illustrated that this is Europe's premier mid-winter sale".
"The sale of Teo's Sister set a new record price for the February Sale and, aswith Banimpire here in November, Jim Bolger has proven the point yet again that when you bring the best to Goffs you get the best prices."