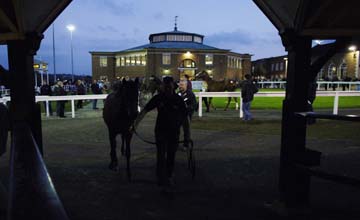 This year's Racing Post Yearling Bonus races will offer a fund of £2.2 million
PICTURE:
Edward Whitaker (racingpost.com/photos)
2012 bonus races to carry £2.2 million fund

THE Racing Post Yearling Bonus Scheme will head into its third season with a fund of £2.2 million, whichallows for no fewer than 130 bonuses to be paid out to eligible winning two-year-olds in Britain this year.
Another 30 two-year-old bonuses will be paid out in Ireland while 29 bonuses will be available to eligible winning three-year-olds in Britain and Ireland thanks to a carryover fund of £290,000 from last year.
Another £350,000 worth of bonuses will be offered internationally.
The March 25 card at the Curragh offers trainers the first chance to land a £10,000 payment, with the two-year-old and three-year-old maiden both set to carry a bonus.
The British bonus season kicks off a couple of days later on March 31 with bonus races scheduled to be run on cards at Kempton and Doncaster's Lincoln meeting.
"Races are selected proportionately to those programmed by the BHA from the start of the turf season to the end of October so we make every effort to give all types of yearling a chance at winning a bonus," said Kerry Murphy, co-ordinator of the Racing Post Yearling Bonus Scheme.
"Ten per cent of the bonus fund is carried over for three-year-old maidens with subsequent Oaks winner Dancing Rain among those who benefitted last year. All races selected for the bonus meet or exceed the Horseman's Group tariff and we are certainly trying to target those racecourses making a consistent effort to increase their prize-money contribution.
This year's fund of £2.2 million was achieved thanks to a registration take-up of 86 per cent of yearlings catalogued to auction in Britain and Ireland last year. Over £5.4 million has been paid out in bonuses during the two seasons that the scheme has been in operation.
Murphy added: "The industry needs to encourage owners to keep coming back to the yearling sales and with no solution to the reduction in British prize-money on the horizon this self help initiative is ever more popular to owners.
"The £10,000 bonus is a huge incentive and there is no doubt that a lot of the agents and trainers buying yearlings and breeze up horses narrow their lists down to only include eligibles."
The 2012 bonus races can be viewed and horse eligibility checked on the Racing Post Yearling Bonuswebsite, yearlingbonus.com.