| | |
| --- | --- |
| | NANCY SEXTON |
Weblog: Running the rule over studs and sales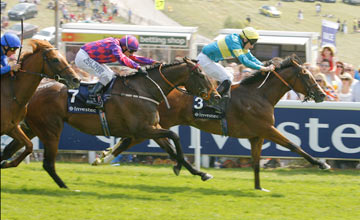 Fanunalter: Diomed Stakes winner is heading to Bahrain via Michael Wigham after selling for 67,000gns
PICTURE:
Mark Cranham (racingpost.com/photos)
Tattersalls Guineas Sale - 115k for Shamardal colt

Sale stats
Offered: 98
Sold: 78 (80% - best clearance rate ever recorded at this sale)
Aggregate: 2,153,250gns
Average: 27,606gns
Median: 21,000gns
No. successful pinhooks (listed as sold on previous trip through the ring): 26 of 57 offered
Leading vendor: Bansha House Stables, 12 sold for a total of 353,500gns
Leading buyer: David Redvers Bloodstock, four bought for a total of 357,000gns
Leading sire: Shamardal, three of four offered sold for a total of 168,500gns and average of 56,167gns
TOP FOUR LOTS

| | | | |
| --- | --- | --- | --- |
| Lot no. | Breeding | Buyer | Price (gns) |
| 115 | c Shamardal - Pivotal's Princess | David Redvers | 115,000 |
| 159A | c Acclamation - Applaud | Peter & Ross Doyle | 95,000 |
| 192 | c Invincible Spirit - Grizel | Gill Richardson | 90,000 |
| 175 | c Acclamation - Divert | David Redvers | 87,000 |
Chairman's statement
"Reintroducing the Guineas Breeze Up Sale with the addition of a horses in training section was not a decision we took lightly, but today's trade has fully vindicated the decision. There hasbeen real strength and depth to the market at all levels and without doubt the new horses in training part of the catalogue has helped to attract a wide cross section of international buyers to complement the domestic demand. The sale has produced very respectable returns across the board and achieved an enviable clearance rate which has bettered all previous Guineas Breeze Up Sales.
"The success of today's sale again reflects the professionalism of the consignors and we must thank them for their support of the fixture after a break of one year. Just as at the recent Craven Breeze Up, the two year olds have again had to contend with less than ideal breezing conditions, but again they have coped admirably and considering the huge amount of recent rain, the ground also held up remarkably well.
"Both today's sale and the Craven Breeze Up have demonstrated the
enduring appeal of Breeze Ups at Tattersalls and in particular we look forward to building on the success of today's fixture in the years to come."
---
Today's sale was the final Tattersalls auction covered on behalf of the Racing Post by Ed Prosser, who takes up his position asKeeneland European representative in July. Ed started sale reporting for the Sporting Life in 1996 and has been writing for the Racing Post since 1998.
In paying tribute to Prosser, John O'Kelly said: "We say goodbye today to a gentleman in Edward Prosser, who is retiring from journalism to become an aspiring bloodstock executive."
---
Lot 192 - sale ends with a flourish as Gill Richardson goes to 90,000gns for the final lot through the ring, an Invincible Spirit half-brother to Grade 2-winning miler Whatsthescript. Marco Botti will train.
A 38,000gns Book 2 Tattersalls October purchase by Oaks Farm Stables, the colt is out of triple winner Grizel, a half-sister to Listed-winning juvenile Queen Of Poland.
Lots 174 and 175 - two major pinhooking coups are realised within five minutes when Hannah Wall of David Redvers goes to 75,000gns for lot 174 and 87,000gns for lot 175. Both have been bought to race for Qatar Racing.
Lot 174, a Danroad half-brother to Group 3 winner Pyrrha and grandson of Irish 1,000 Guineas heroine Nicer, was retained at the DBS Premier Sale for just £10,000 last August. He was sold today by Church Farm Stables.
Wall had to fight off Gary Moore for lot 175, an Acclamation colt out of minor winner Divert. He was a £42,000 yearling purchase by vendor Powerstown Stud. With one lot left to sell, Acclamation's sale average is running at 65,500gns.
Lot 169A - another wild card, another good sale as Dermot Farrington outbids Peter Doyle at 80,000gns for a Henrythenavigator half-brother to Grade 1 winner and successful sire Harlan's Holiday.
The colt, consigned by Oak Tree Farm, was a late entry after missing his engagement at the Craven sale last month. He was a $95,000 Keeneland September pinhook by vendor Norman Williamson.
"He's been bought for a Hong Kong-based client," said Farrington, "and is most likely to go into training with Ed Vaughan in Newmarket. He might end up racing in HongKong if he's good enough.
"He missed the Craven Sale just because of a cut under his hock."
His sale brings Henrythenavigator's European two-year-old average to 84,000gns for five sold.
Lot 159A - the first purchase of the day for Peter and Ross Doyle is a 95,000gns son of Acclamation, the sire of Richard Hannon-trained stars such as Harbour Watch and Lilbourne Lad.
"He's been bought by Robin Heffer (former owner of Harbour Watch) as a birthday present for his wife Judy," said Peter Doyle. "I've been lucky buying late at a sale for him before - Harbour Watch came up late on as did Canford Cliffs.
"This was a lovely horse with plenty of size. There'll be no rush with him. He handled the (soft) ground well yesterday- it wasn't easy for them to breeze on that going."
Consigned as a wild card entry by Yeomanstown Stud, the colt is bred to be a smart juvenile as a son of 1995 Cherry Hinton Stakes heroine Applaud. The daughter of Rahy is the dam of seven winners including Listed scorer Jazz Jam.
Lot 155 - the only Curlin two-year-old catalogued on this side of the pond this spring fails to change hands. Bidding stalled at 38,000gns for the colt, a half-brother to Group 3 winner Danzon.
Lot 152 - Hannah Wall sees off Ross Doyle for Brown IslandStables' daughter of Bernstein at 80,000gns. Her sale is a big result for John Collins of Brown Island Stables in that he paid just £14,500 for the filly at last year's DBS Premier Yearling Sale.
As with Redvers' Shamardal purchase, the filly will race for Qatar Racing. A trainer is yet to be decided.
Bred in Kentucky by Clearsky Farms, she is the third foal out of Winter Morning, a placed Rahy daughter of Grade 1 winner Creaking Board. She was a $15,000 pinhook by Glidawn Stud at the 2010 Keeneland November Sale, which pleases Ed Prosser who is swapping sales reporting for a Keeneland blazer later this year.
Stats update -
Sold: 66 (73%)
Aggregate: 1,157,900gns
Average: 17,544gns
Median: 10,000gns
Click here to view all stats
Lot 145 - the first two-year-old from the first crop of Papal Bull sent through a ring this spring creates an impression, selling to the BBA Ireland's Patrick Cooper, standing alongside Bill Oppenheim and Jimmy George, for 41,000gns.
Mayfield Stables consigned the half-brother to Listed winner Lisselan Diva, who was a 20,000gns Tattersalls October 2 purchase by Bobby O'Ryan.
Lot 117 - New Approach Bloodstock makes another significant purchase on behalf of owner Mohammed Al Bousi, this time going to 75,000gns for an Invincible Spirit colt from Con Marnane.
Marnane paid 30,000gns at Book 2 of the Tattersalls October Sale for the colt, who is the third foal out of Remarkable Story, a three-parts sister to Group 1 winner Necklace.
New Approach Bloodstock currently heads the buyers' list with four bought for a total of 173,000gns.
Lot 105 - twoweeks after providing the top lot at the Tattersalls Craven sale, Shamardal is line to repeat the trick with David Redvers going to 115,000gns for a colt from Willie Browne's Mocklershill.
Interest for the colt initially rested between Gill Richardson and German trainer Wolfgang Figge, who between them pushed the bidding up to 110,000gns. At that point, Redvers came in with a one successful bid.
"He's for Qatar Racing and I haven't discussed a trainer with Sheikh Fahad. We'll probably try to get a couple more here today and a couple at Arqana next weekend and then sort trainers for all of them. He'll almost certainly come back to my place now.
"He was not hard ridden in his breeze but did a very fast time. He was a proper horse who was all speed. The mare was useful and her first foal was rated 96."
Out of the Listed-placed Pivotal's Princess, the colt is a half-brother to dual winner Accession and from the further family of 2,000 Guineas winner Tap On Wood. He was a €45,000 pinhook by Browne at the Goffs Orby Sale.
His sale brings Shamardal's two-year-old average for 2012 to 126,294gns.
Lot 100 - after coming off second best on the Kheleyf colt (92A), Ajay Anne of New Approach Bloodstock goes one better in securing a daughter of Shamardal from Con Marnane's Bansha House Stables for 50,000gns. The filly - a half-sister to the Listed-placed New Awakening - was a successful pinhook for her vendor, who paid €22,000 for her at the Goffs Orby sale.
Lot 92A - Richard Fahey will train the first two-year-old to break the 40,000gns mark after seeing off Ajay Anne at 46,000gns for a son of Kheleyf. Consigned by Katie Walsh, who paid €15,000 for the colt at the Goffs Orby Sale, the colt is a half-brother to four winners and out of Mandolin, an unplaced Sabrehill sister to the Group 1-placed Alboostan.
"I don't think he's got an owner yet," said Fahey's assistant Robin O'Ryan. "He breezed very well and we've had a bit of luck withthe sire, who's a good producer of two-year-olds."
So far, ten lots have sold at an average of 16,800gns.
---
Final horses in training stats: 24 of 35 offered sold for a total of 224,400gns, average of 9,350gns and a median of just 3,500gns. Only two of the eight lots to hit 20,000gns or above in the ring were actually sold.
Perhaps one encouraging aspect from today's inaugural horses in training sale is thatit won't take much to improve upon it next year. But it begs the question as to whether there are too sales of this nature, especially at this time of year - for instance, in the past two weeks there have been low-grade horses in training sales at Ascot and Doncaster in addition to Newmarket.
Lot 66 - 80,000gns isn't enough for Brian Meehan's Meydan Classic winner Burano to change hands, with Oliver St Lawrence signing the ticket on behalf of the vendor.
Lot 65 - Bahrain-based Jalil al Mallah sees off Dandy Nicholls at 67,000gns for Fanunalter, the winner of last season's Diomed Stakes for Marco Botti. The son of Falbrav is the winner of four races in total and nearly £170,000 in prize-money.
"He's been bought for Abdul Aziz Al Kathiri, who will own and train him in Qatar," said al Mallah. "I came from Bahrain just to buy him and he'll stay here until July and be trained by Michael Wigham.
"All the big races in Qatar are for stayers so we were looking for a horse that stayed and this horse seems to go on most ground so he should be fine on that count as most of the races are run on good to firm."
---
As another horse sells for under 5,000gns, David Redvers airs his opinion on Twitter, saying:
"I love Tattersalls but putting on a crap horses in training sale as a warm up act for a breeze up was half witted."
However, two of the better lots - stakes winners Fanunalter and Burano - are still to go through.
Lot 50 - not many sales taking place today; 83-rated Benbecula, who was last seen finishing down the field behind Rougemont in the Tattersalls Millions 3yo Trophy, is retained by Andrew Tinkler for 45,000gns.
Lot 46 - another pricey buyback as Kevin Ryan's triple winner Beautiful Day fails to sell at 35,000gns.
However, his sale follows that of multiple winner Cotton King (45), who is sold out of Toby Coles' yard for 20,000gns to Julian Wilson. The gelding is the third horse this morning to break five figures.
Lot 28 - more minor excitement, this time when bidding reaches 34,000gns for Knockgraffon Stables' three-time winner Knockgraffon Lad. However, he too is returning home.
Lot 21 - Cape Safari is one of the few lots in this catalogue who boasts recent form but that isn't enough to see James Tate's filly change hands.
Bidding stalled at 37,000gns for the well-connected daughter of Cape Cross, who has won three races - two since the publication of the catalogue - and was last seen running second to Easy Terms over 1m2f at Pontefract on Wednesday.
---
Jilly Cooper has appeared with Ed Harper in the gate, perhaps to research her latest bonkbuster. She hasn't got much to look at though as the top price for the first ten through the ring is 5,500gns, paid by Conrad Allen for lot 7.
---
THE Tattersalls Guineas Horses in Training and Breeze-up sale returns to the sales calendar this year following a year's break, during which Tattersalls experimented with an April breeze-up in Ireland.
However, that sale "didn't go as well as hoped" (clearance rate of 55 per cent and average of €8,591) to prompt a rethink that ultimately led to the reintroduction of this sale.
"We felt last year there might be a gap in the Irish market for a breeze-up," said Tattersalls marketing director Jimmy George yesterday, "but that the market obviously didn't warrant staging both a new Irish sale and a Guineas sale.
"When the Irish sale didn't go as well as we hoped, we felt the Guineas sale - which has been good from the outset - merited reintroduction.
"The feedback we've had from vendors on the move has been positive. We set out to catalogue 90 to 100 lots and got over 120."
For the first time, the sale will be opened by a group of horses in training, which although hit by a large number of withdrawals, still includes the likes of Listed winnerBurano and Diomed Stakes winner Fanunalter.
Established in 2007, the Guineas breeze-up hit a high in 2008 when producing a 470,000gns top lot (an Exceed And Excel filly out of Bois de Citron who was sold to Richard O'Gorman) and average of 47,913gns. That edition of the sale also yielded several smart flag-bearers including Grade 3 winner Oil Man, smart sprinter Our Jonathan and recent American stakes scorer Imco Spirit.
Its most celebrated graduate, top sprinter Margot Did, emerged two years later. The daughter of Exceed And Excel was sold to Richard Frisby for just 10,000gns.
A lot of juveniles struggled with the soft going at yesterday's breeze on the Rowley Mile, some even being reduced to a trot. One got loose and another refused to breeze - he has since been withdrawn.
Late entries:
66) Burano; 3yo c Dalakhani x Kalimanta
92A) b c Kheleyf x Mandolin
93A) b c Footstepsinthesand - Milwaukee
159A) b c Acclamation x Applaud
169A) b c Henrythenavigator x Christmas In Aiken
172A) b c Pivotal x Dance A Daydream
Potential stand-outs include:
85) b f Oasis Dream - Kirk; the only lot by her sire catalogued, she is a half-sister to the Grade 2-placed Natalie Jane
113) ch c New Approach - Questina; half-brother to Group 3 winner Trumbaka from the family of Poliglote
115) ch f Danehill Dancer - Ravine; half-sister to high-class two-year-old Captain Hurricane
121) b c Tamayuz - Sakhee's Song; first foal out of a Group 3-placed mare from a quick family
169A) b c Henrythenavigator - Christmas In Aiken; this wild card entry is a half-brother to Grade 1 winner and successful sire Harlan's Holiday
192) b c Invincible Spirit - Grizel; half-brother to Grade 2-winning miler Whatsthescript
Selling starts at noon and is expected to end at around 6.30pm.
Horses in training withdrawals: 1, 2, 4, 13, 14, 18, 20, 23, 24, 29, 31, 32, 34, 37, 40, 47, 48, 55, 57, 58, 59, 60, 61, 62, 63, 64
Breeze-up withdrawals: 75, 76, 79, 80, 83, 87, 96, 104, 106, 110, 118, 119, 126, 133, 134, 136, 142, 150, 153, 160, 162, 176, 177, 181, 182, 185, 186, 187