| | |
| --- | --- |
| | NANCY SEXTON |
Weblog: Running the rule over studs and sales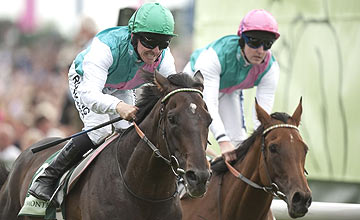 Twice Over: his half-sister, Betray, was sold for 50,000gns to BBA Ireland
PICTURE:

Edward Whitaker (racingpost.com/photos)
Tattersalls February
- 110,000gns for Appeal

Statistics
Offered: 244
Sold: 179 (73%)
Aggregate: 1,641,100gns (-2%)
Average: 9,168gns (-10%)
Median: 3,500gns (-22%)
Top price: 110,000gns (2011: 160,000gns)
No. six figure lots: 1 (2011: 2)
Leading vendor: Juddmonte Farms, 22 sold for a total of 305,100gns
Leading buyer: BBA Ireland, five bought for a total of 159,000gns
TOP FIVE LOTS

| | | | |
| --- | --- | --- | --- |
| Lot no. | Name | Buyer | Price (gns) |
| 167 | Appeal | C. Gordon-Watson | 110,000 |
| 186 | Tuscania | Wadham Racing | 80,000 |
| 67 | Tameen | Ed Dunlop Racing | 80,000 |
| 185 | Fennica | Cormac McCormack | 68,000 |
| 249 | Pearl Rebel | Linden Lodge Bloodstock | 65,000 |
---
At the conclusion of the sale, Tattersalls chairman Edmond Mahonycommented;
"The Tattersalls February Sale has been a popular fixture since its inception in 2000 and this year's renewal has, as ever, attracted an international cast of buyers with a myriad of different requirements. It may not have been a vintage February catalogue but the feature of today's sale has been the demand for the better quality lots, in particular those from the major owner/breeders who continue to support this and other mixed sales at Tattersalls with high class commercial consignments.
"While the clearance rate has not matched the record levels of last year's February Sale it is the second highest since 2007 and the key indicators of average, median and turnover have all held up well. In addition, we have sold horses to countries as diverse as Greece, Hong Kong, Hungary, Kuwait, Libya and Qatar as well as all the traditional European markets, which is a tribute to the continued high regard in which mixed sales at Tattersalls are held."
Lot 249 - Pearl Rebel, who is two from two for Stuart Williams and Pearl Bloodstock in his career so far, is off to Hong Kong after selling to former Newmarket trainer Greg Chung under the Linden Lodge Bloodstock banner for 65,000gns.
"He's going to Hong Kong and will go into quarantine in March," said Chung of the three-year-old Cockney Rebel colt. "It's hard to say what the form of all-weather races at this time of year amounts to but he won both his races well and looks the type of horse to physically improve."
Juddmonte draft - Juddmonte-bred fillies are always in demand at these salesand this year is no exception.
First to light up the ring is Fennica (185), a placed Empire Maker half-sister to Observatory who sells to Cormac McCormack for 68,000gns. Bill Dwan is the underbidder.
Next up is Tuscania (186), a winning half-sister to Confront from the family of Reams Of Verse who could be a possible mate for Sir Percy this spring after selling to Lucy Wadham on behalf of Anthony and Victoria Pakenham for 80,000gns.
The four-year-old daughter of King's Best won once for Sir Michael Stoute and was rated 90 at her peak.
"She'll keep on racing - she seems to enjoy running at Newmarket - but there is a chance she'll be covered this spring," said Wadham.
In all, eight of nine fillies offered by Juddmonte were sold for an average of 22,000gns.
Lot 174 - it's a minor victory for Tattersalls as Singapore Lilly, the filly at the centre of apayment dispute, sells for 62,000gns to Michael Donohoe of the BBA Ireland. The daughter of Mujadil, a Group 1-placed juvenile for Mick Channon, was taken into Tattersalls' possession late last year after the auction house failed to receive payment following her 210,000gns sale to Californian owner Jeffrey DeHaven through Gordian Troeller at the 2010 December Sale.
As for Singapore Lilly, her latest sale marks a coming home of sorts.
"She's for Maurice Burns (Rathasker Stud, which is home to her sire, Mujadil), who sold her as a yearling (for €10,000 at Goresbridge)," said Donohoe. "I think she'll retire straight away. She was entered in Fasig-Tipton in November and I went to see her but shewasn't there. The same thing happened when she was entered in the January Sale at Keeneland so I'm glad to have finally got her!"
Geoffrey Howson and David Curran of Gazeley Stud were among the underbidders.
Lot 167 - four-year-old Appeal, a half-sister to Group 2 winner Zinziberine from the family of top stayer Amilynx, is heading back to Sir Mark Prescott's after selling to Charlie Gordon-Watson for 110,000gns. Gordon-Watson had to outbid Paddy Twomey for the daughter of Selkirk, whom Prescott trained on behalf of Denford Stud to win three races, most recently at Wolverhampton just under a month ago.
"She's been bought for a partnership of some old existing clients and she'll be going back to Sir Mark," said Gordon-Watson. "Hopefully, she'll run in a Listed race at Cagnes-Sur-Mer. We thought that while she is in such good form, we should try and get some black-type.
"I'dimagine she'll be covered this year. Being by Selkirk out of a Linamix mare, there are a lot of options with stallions."
Lot 165 - three-year-old West Leake Diman, a dualwinner last season who finished midfield on his penultimate start in the Middle Park Stakes, is led out unsold at 78,000gns
The Namid colt was offered by Faringdon Place Stables.
---
Moving on two-year-olds is even harder. Only eight - 48 per cent - change hands led by a Dubawi filly (136) who sells for 4,000gns to John Stocker. Overall, they average 1,413gns.
Lot 106 - the only Dalakhani yearling catalogued is the star turn of his age group, selling to Gay O'Callaghan for 37,000gns. Offered by Fittocks Stud, he is a half-brother to the Listed-placed Elke's Friend and out of the placed Saphila, a Sadler's Wells half-sister to the Group 1-placed Poseidon Adventure who sold earlier today for 25,000gns to Oliver St Lawrence.
Overall, it's a difficult hour for vendors of yearlings with only 47 per cent changing hands for an average of 7,300gns and median of 3,500gns.
Lot 89 - Jessica Ennis, who was involved in a car collision last summer before setting foot on a racecourse, is sold for 3,500gns to James Read of Selwood Bloodstock.
Part-owned by her namesake, the World Champion heptathlete in a Highclere Thoroughbed syndicate, the daughter of English Channel was purchased by John Warren for 82,000gns at last year's Tattersalls Craven Breeze-up Sale. She was only days away from making her debut at Newmarket last July for Michael Bell when involved in a collision with a car after getting loose on Newmarket Heath.
Lots 80 and 82 - young Listed winner Spinning Lucy is bought by Hugo Merry for 45,000gns. The daughter of Spinning World, whose first foal, a Royal Applause colt, was retained for 5,000gns as a yearling, is the only mare catalogued in foal to Aqlaam.
Minutes later, John Cullinan of Horse Park Stud goes to 48,000gns for Soliza, a daughter of Intikhab in foal to sire-of-the-moment Acclamation. The half-sister to the high-class former David Elsworth-trained Salford Mill is the dam of two winners from as many runners.
"At the moment, she's all mine," said Cullinan, "and I hope to sell the Acclamation as a yearling. Acclamation quite a lengthy horse and so I think it's quite a good mating for her. Acclamation is standing for €35,000 and you can't get into him."
Her sale brings Acclamation's covering average at this sale to 29,000gns for two sold.
Lots 67 and 68 - the sale momentarily bursts into life as Ed Dunlop goes to 80,000gns for the 100-rated Tameen (67) and Michael Donohoe of the BBA Ireland secures Twice Over's half-sister Betray (68) for 50,000gns.
Triple winner Tameen not only boasts some fine form - she was fourth in the Listed Gillies Fillies' Stakes at Doncaster - but some good connections as a daughter of Italian champion Najah, herself a daughter of Irish 1,000 Guineas heroine Mehthaaf.
"I can't say who she is for but obviously I know the family well as she was with my father," said Dunlop, who had to fight off David Redvers, Bertrand Le Metayer and Jimmy George for the Shadwell filly.
"She was fourth in a Listed race at Doncaster last year and hopefully if she can improve a bit from three to four she might pick up some black-type this season. We'll see how we get on but hopefully she'll be a breeding prospect for my client."
Betray, the first mare offered by Juddmonte today, is heading to an undisclosed Irish breeder. An unraced daughter of King's Best, she was sold in foal to Twice Over's sire Observatory.
"She's a good looking mare and she's carrying a foal bred on the obvious cross," said Donohoe.
Lot 46 - minor excitement as Creese, the only mare catalogued in foal to Teofilo, reaches 60,000gns. But it turns out that the winning daughter of Halling is bought back. Conrad Allen is the underbidder.
---
This is depressing. Lots 2 - 7 fail to attract the minimum bid of 800gns and it isn't until lot 12, Shelovestobouggie, that a ticket is signed - at 800gns. However, the better lots are catalogued to start coming through in the next couple of minutes.
Lot 1 - Longdon Stud stallion Striking Ambition will stand in Libya after selling to Tarek Gadi for 6,500gns. GeraintPrice, who once stood classy hurdler Dreams End, was the underbidder.
The Group 2-winning sprinter is the sire of six winners in Britain and Ireland from his first two small crops of racing age. He was advertised to stand this season at Longdon for £1,500.
---
A SELECTION of mares, short yearlings, horses in and out of training and stallions comprise this year's one-day Tattersalls February Sale (unfortunately spelt 'Feburary' on the catalogue'sfront cover), which is being staged today in an arctic Newmarket.
The ever popular TBA stallion parade consists this year of 14 stallions (excluding Makfi contrary to earlier announcements) and kicks off proceedings at 10am. The sale of 298 catalogued lots follows at 10.30am. Last year's renewal saw 164 lots sell for a total of 1,672,800gns and average of 10,197gns, an impressive rise of 51 per cent from 2010. Trade was topped by Tony Nerses' purchase of Full Steam for 160,000gns.
This sale is usually one of Tattersalls' quieter affairs. However, yesterday was a relatively busy showing day with one prominent vendor reporting: "Usually on this day it's like watching paint dry buttoday we've been run off our feet."
The sale is opened by the stallion Striking Ambition, who came within a nose of winning the 2005 Prix de l'Abbaye. King's Stand Stakes winner Chineur is a late withdrawal.
Other interesting lots include:
67) Tameen: four-year0old daughter of Shirocco is rated 100, is out of an Italian champion and was fourth in the Listed Gillies' Stakes at Doncatser
68) Betray: offered by Juddmonte, this young daughter of King's Best is a half-sister to Twice Over and carrying to that horse's sire Observatory
80) Spinning Lucy: young Listed winner in foal to Aqlaam
112) b c Selkirk - Spa: yearling half-brother to Group 2-placed Persian Majesty
153) Pre Catalan: half-sister to Group 2 winner Imperial Stride out of a half-sister to Indian Haven
174) Singapore Lilly: Group 1-placed juvenile who has missed her recent engagements at the Fasig-Tipton November and Keeneland January Sales. Tattersalls took possession of the daughter of Mujadil late last year after having not received payment following her 210,000gns sale to Californian owner Jeffrey DeHaven through Gordian Troeller at the 2010 December Sale
185) Fennica: Empire Maker half-sister to Observatory
249) Pearl Rebel: unbeaten in two starts for Stuart Williams
Withdrawal: 2, 8, 20, 21, 24,28, 29, 31, 57, 81, 83, 87, 101, 103, 115, 117, 160, 164, 166, 173, 181, 183, 195, 201, 204, 206, 208, 213, 221, 222, 225, 245, 247, 259, 263, 276, 277, 278, 282, 288, 293, 294, 297