| | |
| --- | --- |
| | KEENELAND SALES BLOG |
Weblog: Nancy Sexton reports live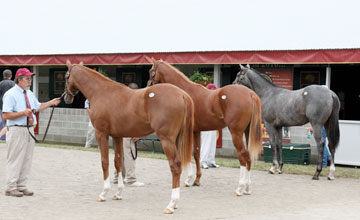 A Distorted Humor colt out of Grade 1 winner Mushka topped the first session of the Keeneland September Sale at $1.65 million
PICTURE:

Keeneland
Keeneland September - Book 1 as it happens
Book 1 statistics
Offered: 114
Sold: 75
Aggregate: $30,290,000
Average: $403,867 (+14%)
Median: $350,000 (+17%)
Leading consignor: Eaton Sales, 11 sold for a total of $5.13 million
TOP FIVE LOTS
| | | | |
| --- | --- | --- | --- |
| Lot no. | Breeding | Buyer | Price ($) |
| 131 | c Distorted Humor - Mushka | Shadwell Estates | 1.65 m |
| 45 | f Smart Strike - Untouched Talent | Donato Lanni, agt | 1.3 m |
| 128 | f A P Indy - Moonlight Sonata | Whisper Hill Farm | 1.1 m |
| 94 | c War Front - Gold Vault | Jane Dunn, agt | 1.05 m |
| 41 | c Street Cry - Tizso | C. Sandford | 1 m |
LEADING SIRE BY AVERAGE ($) more than one sold
| | | | |
| --- | --- | --- | --- |
| Name | No. offered | No. sold | Average |
| Distorted Humor | 11 | 7 | 605,714 |
| A P Indy | 8 | 6 | 600,000 |
| Street Cry | 7 | 4 | 556,250 |
| Smart Strike | 9 | 7 | 522,857 |
| Indian Charlie | 3 | 2 | 487,500 |
EUROPEAN SIRE WATCH
| | | | |
| --- | --- | --- | --- |
| Name | No. offered | No. sold | Average |
| Danehill Dancer | 1 | 1 | 250,000 |
| Galileo | 4 | 4 | 362,500 |
| Montjeu | 1 | 1 | 85,000 |
| Sea The Stars | 1 | 1 | 675,000 |
LEADING BUYERS BY AVERAGE
| | | | |
| --- | --- | --- | --- |
| Name | No. bought | Aggregate | Average ($) |
| Shadwell Estate Co. | 4 | 3.8 m | 950,000 |
| Whisper Hill Farm, LLC | 3 | 2.25 m | 750,000 |
| K.K. Eishindo | 4 | 1.975 m | 493,750 |
| C. & M. Sandford | 3 | 1.73 m | 576,667 |
| Jane B. Dunn, agent | 2 | 1.45 m | 750,000 |
Statement from vice president of sales Walt Robertson: "It was a good start to the sale. All the figures were up and the clearance was marginally better than last year.
"I would have liked to have sold a few more but we're still in a very selective world.
"However, we had buyers from everywhere. The Japanese hit hard as did the Americans. The Japanese were stronger than last year - I think that is in part due to the strength of the yen against the dollar plus US-breds [such as Grade 1 winner Testa Matta] are currently doing well out there.
"We also saw a lot of trainers and I think they were helped with the new format of the sale. We felt the new format worked very well."
Lot 131 - the best is saved almost until last as Shadwell strike for the top lot of the day, a $1.65 million Distorted Humor colt out of the Grade 1 Spinster Stakes winner Mushka.
"He has a good pedigree, nice conformation and so should fit well into our programme," enthused Rick Nichols, vice president of Shadwell Farm.
Eaton Sales sold the colt on behalf of breeder Elizabeth Moran and the outfit's Reiley McDonald said: "Whenever you break a million in this market, you're doing well. But we knew he had the right profile - he's out of a top mare who could run on anything, he has a long neck, great shoulder and the right attitude. They go through four days of abuse here with all the looking and vetting, and he sailed right through it.
"We bought Mushka for $2.4 million in 2008 and we had a lot of fun with her. She was a tremendous mare and by sending her to Distorted Humor, we were hoping to get something with her size and his heart and toughness."
Lot 128 - Members of the final crop of leading sire A P Indy were always going to be in demand and it is Mandy Pope of the Florida-based Whisper Hill Farm who securs the stand-out of the group, a three-parts sister to Grade 2 winners Beethoven and Wilburn for $1.1 million.
"There was absolutely nothing not to like about her," said Pope. "I thought she could top the sale - she's a beautiful filly who is out of a Grade 3 winner [Moonlight Sonata] and closely related to two Grade 2 winners. She has a lot of upside.
"It's very special to have one of the last by A P Indy. A lot of them could be temperamental but I don't think, from what I've seen, that it is going to be a problem with this filly. We'll give her plenty of time."
Lot 102 - prominent Japanese owner K K Eishindo secures the only Sea The Stars yearling catalogued tonight at $675,000. Although the price made him 'nervous', Eishindo felt he couldn't let the colt go given his similarity to his sire.
"I saw Sea The Stars at Gilltown Stud," he said, "and in my opinion, he is very similar to him. If he's not a good racehorse, my eyes are wrong! He's a very striking colt. He'll ship straight back to Japan."
The colt was a 225,000gns Tattersalls pinhook by David Redvers on behalf of vendor Clearsky Farm and was bred by Mick Kinane in partnership with Eadling Farm and Marengo.
Another Sea The Stars yearling, bred by SF Bloodstock and tightly inbred to Miswaki, sells tomorrow as lot 189.
Lot 94 - another hot update reaps rewards as a half-brother to leading three-year-old filly Contested, the dominant winner of the Grade 1 Test Stakes since the publication of the catalogue, attracts a winning bid of $1.05 million from Jane Dunn.
Claiborne Farm consigned the colt, who is the most expensive yearling ever sold by his sire and out of the Arch mare Gold Vault, a multiple-winning half-sister to top sprinter Pomeroy.
"He's been bought for a group of American owners," said Dunn. "He's an outstanding horse. The good horses tonight are expensive - it you want them then you have to be brave."
Lot 52 - Juddmonte make a rare foray into the market with the purchase of an Elusive Quality colt for $525,000. Sold by his breeder Woodford Thoroughbreds, the colt is out of the 2001 champion three-year-old filly Xtra Heat and a brother to the Grade 3-placed Elusive Heat.
Lot 45 - just moments following the $1 million Street Cry colt, the ring lights up again as Bodemeister's Smart Strike half-sister falls to agent Donato Lanni for $1.3 million.
Lanni signed the ticket on behalf of Hill 'n' Dale Stud owner John Sikura and Bruce Lunsford, best known as the owner of the 2004 Ashford Stakes winner Madcap Escapade. She will be trained by Bob Baffert, who sent out Bodemeister to win this year's Arkansas Derby and finish a narrow runner-up in the Kentucky Derby and Preakness Stakes.
Bred by Audley Farm Equine, she is the third foal out of the Grade 3-winning and Grade 1-placed two-year-old Untouched Talent, by Storm Cat, and was sold by Brookdale Sales.
When asked why he wanted her in his barn, Baffert quipped: "Because I miss Bodemeister." The son of Empire Maker was retired last month due to a shoulder injury and will stand at WinStar Farm in 2013.
Lanni added: "I saw this filly three months ago in Virgina at Audley Farm and she has really come on since then. She's very classy. John [Sikura] owned the dam at one point and she was a pretty serious filly. Unfortunately her career was cut short.
"I don't remember Bodemeister as a yearling so I can't say whether she is much like him in any way. But I see a lot of Smart Strike in her. The good ones always cost."
As for Audley Farm, which is owned by Hubertus Liebrecht, the sale was a 'dream come true' according to farm manager Jens von Lepel.
"Joe Seitz [of Brookdale Sales] did a great job with her," he said "It's a dream come true. She's always been a nice filly and she's out of a wonderful mare - and of course Bodemeister kept us happy all spring.
"This filly is a little different to Bodemeister - he was more like Empire Maker while this filly has a lot of Smart Strike in her."
Audley Farm have entered Untouched Talent, who was purchased by the operation for $1.2 million at Keeneland in November 2007, in the Fasig-Tipton November Sale although according to von Lepel she is not certain to turn up.
""We had to nominate her early if we were going to sell," he said. "But she's a wonderful mare and we'll see how it goes - nothing is set in stone."
Untouched Talent has a filly foal by Tiznow and is in foal to Unbridled's Song.
Lot 41 - Patrick Byrne, the trainer of Horse of the Year Favorite Trick and this season's Florida Derby winner Take Charge Indy, is more than likely to train the Street Cry half-brother to Haskell Invitational winner Paynter after emerging successful at $1 million for the colt.
Spendthrift Farm were among the underbidders.
The colt was the recipient of arguably the largest update in the sale - Paynter has won the Haskell Invitational and run second in the Belmont Stakes since the pulication of the catalogue although he is now fighting for his life after contracting an infection and laminitis.
This colt also owns a strong back pedigree since his unplaced dam, Tizso, is a sister to Horse of the Year and leading sire Tiznow. Bred by Diamond A Racing Corp., he was sold by Taylor Made Sales Agency.
For Byrne and his owner Charles 'Chuck' Sandford, it was a matter of second time lucky since the pair were underbidders to Brad Kelley's Bluegrass Hall at $510,000 for Tizso's 2010 Awesome Again colt last year.
"He is a very well balanced colt with a big pedigree," said Byrne. "We were underbidder on the mare's yearling last year and then after having watched Paynter this year we felt that we had to go the extra mile to get this one."
Sandford, who owns Take Charge Indy as well as promising two-year-old Positively, said: "We had three to four big ones we were going to play on here and he was the first to come up. We're thrilled to have him - if you want to play you have to pay."
Sandford added of Take Charge Indy, who was injured in the Kentucky Derby: "He's been back training for 30 days and hopefully he will run in the Fayette Stakes. We're looking at the Bashford Manor Stakes for Positively [a Grade 3-placed half-brother to Malibu Moon]."
Lot 19 - Keeneland's new European representative Ed Prosser can rest easy. Only 19 lots into the sale and European buyers have struck twice - Ed Sackville as the buyer of lot 14, a Smart Strike colt out of Grade 2 winner Rite Moment for $235,000, and David Redvers as the purchaser of the first Galileo through the ring, a filly out of Grade 1 winner Sharp Lisa for $250,000.
The opening hour may have lacked fireworks - 13 of the first 18 are listed as sold - but at least its international, featuring buyers from America, Britain, Russia (Raut LLC) and Japan (K K Eishindo).
Eishindo, a model railroad manufacturer who races in Japan, is a regular buyer in the US. He has already spent $800,000 tonight, going to $400,000 apiece for a Distorted Humor colt out of Grade 1 heroine River's Prayer (15) and an Empire Maker filly out of Grade 1 heroine Rutherienne (16).
Lot 10 - one of the pedigree stand-outs of tonight's session, a Broken Vow half-brother to champion two-year-old Uncle Mo, doesn't disappoint, selling to Charlotte Weber's Live Oak Plantation for $500,000.
He is the highlight of the first half hour of trading, during which nine of the first 12 lots offered were sold.
M V Magnier paid $1.65 million for the colt's dam, Playa Maya, while carrying this colt at the 2010 Fasig-Tipton November Sale. He was sold by Eaton Sales on behalf of the Playa Maya Syndicate.
Lot 1 - the sale is opened by the $250,000 sale of a Danehill Dancer colt to trainer Dale Romans. One of eight yearlings catalogued tonight by European stallions (seven of whom are by Coolmore residents), the colt was bred by Lynch Bages out of Nasty Storm, a Grade 2-winning daughter of Gulch.
---
AN opportunity to delve into one of the most prized families belonging to John Phillips' Darby Dan Farm arises with lot 123, a Tiznow half-brother to the farm's top turf runner Winter Memories.
The colt boasts four generations of Darby Dan breeding, his fourth dam being the influential mare Golden Trail. The daughter of Hasty Road was acquired in 1962 by the farm's founder John Galbreath in a package of mares belonging to Isabel Dodge Sloane, and today her web encompasses the leading sires Dynaformer and Brian's Time as well as the likes of Ryafan and Monarchos.
Lot 123 is out of Darby Dan Farm's Grade 1 Beverly D Stakes heroine Memories Of Silver. Winter Memories, who carried Phillips' colours to victory in two Grade 1 events, is the best runner so far out of the Silver Hawk mare but she is also the dam of two Listed winners including British Blue, a son of Storm Cat who sold to John Ferguson for $2.4 million at this sale in 2001.
"John [Phillips] races the fillies so this colt was always going to head to a sale," explained Robert Hammond, general manager of Darby Dan. "He's a beautiful colt, typical of the family and has a great mind.
"I'm feeling positive about the sale. The action has been good - both the Tiznow colt and our Speightstown filly (101) have been popular - and all the right faces here, especially those from Europe and Japan."
---
THE decline in the American foal crop as well as the prospect of increased participation by international buyers has given consignors cause for cautious confidence ahead of the Keeneland September Sale in Lexington, Kentucky.
The sale opens tonight at 4pm (local time) with a boutique session of 132 catalogued yearlings and follows a promising start to the American yearling sales season, in which three of the first five sales posted increases in average. The September Sale itself has rebounded since the effects of the economic crash kicked in four years ago, with last year's renewal seeing 2,921 yearlings - 79 per cent of those offered - sell for a total of $223,487,800 and average of $76,511, an increase of 11 per cent.
As in the past two years, Sheikh Hamdan is likely to attend as is Sheikh Fahad al Thani. Sheikh Mohammed's advisor John Ferguson was another to spend the weekend sifting through potential purchases as were members of the Coolmore and Rabbah Bloodstock teams.
A number of European agents have also made the trip, among them Grant Pritchard-Gordon of Badgers Bloodstock, Tom Goff and Richard Brown of Blandford Bloodstock, Anthony Stroud and Ed Sackville of SackvilleDonald.
With an increased number of major Japanese buyers also in attendance as well as the promise of top end domestic players, it is no surprise that a positive mood has been enveloping the Keeneland barns during the past few days.